Author: Mirnes Bakija
According to United Nations data, every sixth household in Bosnia and Herzegovina is poor, while half of the population lives on the edge of poverty. A particularly vulnerable category in society are children, who often do not have the basic necessities of life, and New Year's gifts are a luxury.
Humanitarian associations and individuals prepare gifts for the youngest, in order to bring back their smile during the holidays. One such association is "Ruku na srce" and the Facebook page "The Magic of Giving BiH".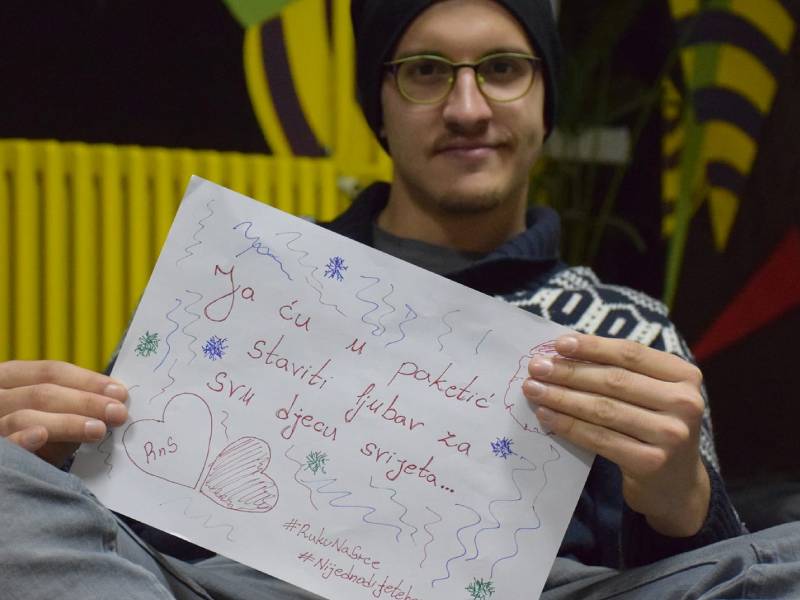 Adnan Lukač, PR and volunteer of the Association "Ruku na srce", says that the campaign "No child without a gifts" was started by several people, who prepared gifts in their houses, garages and other available premises. In the beginning, they made 250 gifts for children, and now up to 3,500 gifts are being prepared.
"Later, the action 'No child without a gift' grew into a humanitarian association, which today successfully fulfills its mission," adds Adnan.
The focus of the Association's work is on children who come from families with weaker financial conditions. As the number of donors increased over the years, they decided to prepare gifts for children who belong to some other marginalized groups in society.
"These are usually children with developmental difficulties or children from smaller communities who do not have many opportunities. In the beginning, we received lists from the centers for social work, but today, after many years of work, we have our own expanded lists for gifts. We distribute gifts throughout BiH," explains Adnan.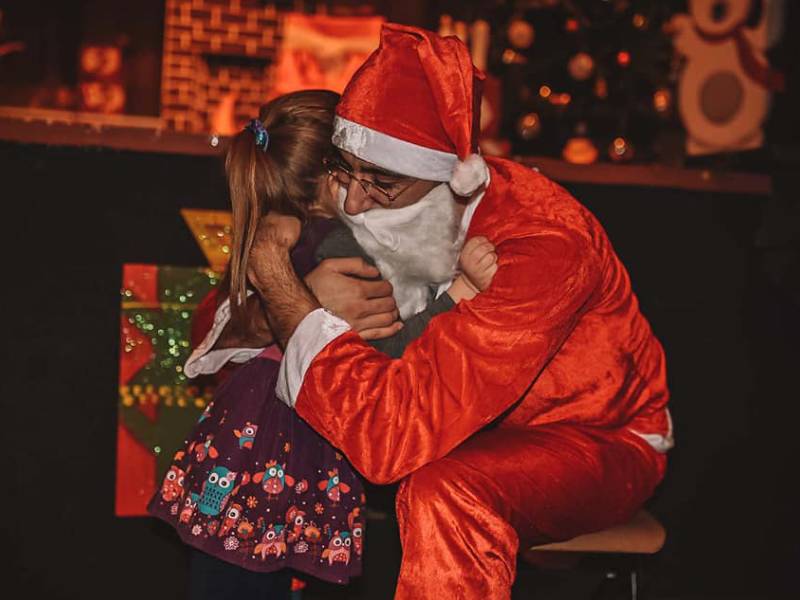 Activities on the project start in October. The Association explains that they first contact permanent donors, in order to remind them that they will implement the project again. After that, there is a search for the premises where the gifts will be packed.
"It is often difficult for us to find space. Making a large number of gifts is a process that involves more than a hundred volunteers, each of whom has their own responsibility. We need to provide a storage space and a space where we will distribute the gifts. The hall must be big, because the children come with their parents and it is important for us to be able to accommodate them all", explains Adnan and adds that at the beginning of November they will start a campaign through social networks, as well as cooperation with the media in order to present the project.
Adnan says that along with the distribution of gifts, they organize many interesting activities for children.
"For the last two years, due to the corona virus pandemic, we haven't had this kind of gathering, but in previous years we had different creative workshops, children play with our volunteers, but also watch the New Year's show that we prepare for them," he says.
The organization with the biggest number of volunteers in Bosnia and Herzegovina
Adnan explains that the "Ruku na srce" Association is the largest volunteer organization in Bosnia and Herzegovina.
"There are much larger humanitarian organizations in our country, but we have the biggest number of volunteers. We have no employees, we have no financial benefit and that is something that makes us special when it comes to humanitarian work in BiH, and we have over 100 active volunteers", he adds.
Volunteers get involved in humanitarian work in order to help someone and spend quality free time. For them, this type of work is a vacation, because as the Association points out, the satisfaction you get from helping someone is priceless.
The Association is currently implementing almost 15 different projects. Some of them are based on a one-time donation for the distribution of gifts, the provision of school supplies and food for children from socially disadvantaged families.
"Another type of project that we do and that we consider extremely important is the education of children. We teach them different skills, help them master school material and teach them foreign languages. It is important to note that the educators are our volunteers, who want to help children in this way. We believe that educating young people is a permanent investment in their future, and between 80 and 100 children are involved in these activities," explains Adnan.
The Association "Ruku na srce" does not have a permanent source of income and is financed exclusively through donations. Most of the donations they receive are sent to socially vulnerable families, and only a small part is used for operational costs. Their donors are mostly citizens, as well as socially responsible companies.
"We get the most response when we make gifts, whether it's a donation of gifts or money. "We rarely receive support from the government, and it is usually through projects that we received when we applied for a public call for the allocation of funds," says Adnan.
The Association says that anyone who wants to volunteer can contact them via the website or social networks. Those who want to donate and help their work can contact the Association in the same way.
The Facebook page "The Magic of Giving BiH" makes little ones happy
"The Magic of Giving" is a Facebook page that has been providing gifts for children for six years with the help of its members. The page was started by Belma Hadžibajrić, who is currently coordinating the entire project.
"Only people who join the site to buy gifts are behind me. Some do it together with their children, in order to teach them empathy from a young age," says Belma.
The site works by getting lists from orphanages and other institutions, which they then post on the "Magic of Giving" Facebook page. The basis of this site are birthday gifts, and during one month they bring joy to between 70 and 90 children in the entire territory of BiH.
"The principle of participation is simple. You can find a wish list on our page and buy a gift. Add sweets, because children love them. If you want, add a greeting card on which you can write your name and contact. Be sure to pack the gift nicely, then deliver it by express mail or directly to the address indicated on the post," says Belma.
She explains that when she posts on Facebook it says 'resolved', it means that all the children have received gifts and it is necessary to find another list on the page. If there is not a single wish list, Belma says that in that case you should wait until they publish a new one.
"If you change your mind about sending a gift for any reason, we won't be mad. The only important thing for us is that you let us know as soon as possible so that we can organize and that the child will ultimately receive a gift", points out Belma.
Belma says that it is extremely important not to send duplicate gifts, because they don't want one child to receive several gifts and the other child to receive nothing. The person who contacted to send a gift will receive a confirmation in the comment on our Facebook page.
"With the help of our members on the Facebook page, this year, in addition to regular birthday gifts, about 650 holiday gifts will be sent. I sincerely thank all the members of the group who made the children happy for the holidays. I would like to ask members not to send used toys, because we want to provide socially vulnerable children with something new, intended only for them," concludes Belma.
Through humanitarian work and volunteering to a better society
Adnan from the Association "Ruku na srce" says that it is extremely important to get involved in volunteer work in order to build a better and more solidary society.
"I think it is extremely important for every person to volunteer in some part of their life, because that feeling when you help someone is priceless. On the other hand, through volunteering, a large number of contacts are made, which can help you privately and professionally in the future," concludes Adnan.
Belma, who coordinates the "Magic of Giving" Facebook page, has a similar opinion.
"It is very important to me to help children without parental care and difficulty financial conditions. I think it is extremely important to include them in all segments of society. When we see that a child from a family with a lower financial status has some interests, we need to provide him/her with support so that he/she can realize his/her full potential. We do good and then those children will grow up to be good people," concludes Belma.