Author: Edina Sećerović
"People with disabilities actually help us here, and with this project we tried to reverse the perception and people with disabilities are a useful part of society who can work and make money."
This is how a positive story begins from the country that is called the third in the world. With small steps, the Muharem Berbić Foundation from Kakanj writes the most beautiful stories, those in which each person has the opportunity for personal development, understanding that each individual has a different basis for development. In the recently opened Friends Club of the Foundation, they employed five people, two of whom are disabled.
Inclusion or acceptance of diversity on any basis
"The Friends Club was founded to train and employ people with disabilities. We have a cafe and a multifunctional hall in the Club area. In the future, it is planned to put a pancake shop, woodworking and sewing workshop into operation. We currently employ 5 people, 2 of whom are disabled, and 3 are young people. Through the Friends Club, we work on social inclusion, i.e. social inclusion of people with disabilities, but also social intersectionality, which means that we understand that no person in our society has the same starting point in their development, and in this regard, we offer opportunities for development that is adapted in relation to individual potentials," Nerdžis Čaplja, project manager of the Foundation, told us.
Nerdžis reveals to us that the plan is to employ 9 additional people as the business develops. The FMB Friends Club in Kakanj was officially opened on October 15 this year. With this, Kakanj, the Zenica-Doboj Canton, but also practically the whole of Bosnia and Herzegovina, got a space and a socially oriented enterprise that works on job training and employment of people with disabilities, but also a space for creating various social and cultural events that should enrich social life of our population. Also, the fact that people with disabilities participate equally in the enrichment of social life is an example for society as a whole to work more on sensibility and acceptance of diversity on any basis. Therefore, it is not surprising that the FMB Friends Club is one of the projects that the Foundation is most proud of.
"We present the example of the Club through various projects at the national and international level because we want the Club to become a standard in the field of inclusion and how people with disabilities become equal, equal actors in society. In this regard, we really have a lot of support from different levels of government, private organizations, international organizations, but also from the BiH diaspora. The story of the FMB Friends Club is really heard far and wide every day because it is in our interest to tell society that a person with a disability is better employed than a person with a disability who lives in the four walls of his/her home and is pitied because of his or her condition," says Nerdžis Čaplja.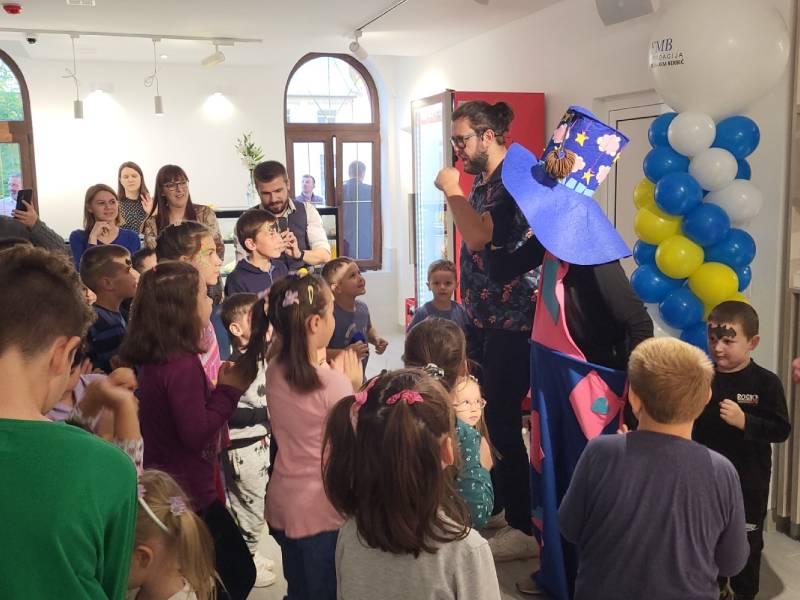 Education and job training of young people and persons with disabilities as basic priorities
"If you give a man a fish, you feed him for a day. If you teach a man to fish, you feed him for a lifetime!"
This Chinese proverb guided the Foundation at a time of transition in approach – from providing humanitarian aid to teaching others how to create resources and opportunities. They are determined to do what they can influence and where they can make positive changes. Thus, the first on their list of priorities is support for education, followed by support for job training of marginalized groups in BiH – young people and people with disabilities. There are many challenges on the way to the goal. Perhaps the biggest was, as stated by the Foundation, the cultural milieu of the people of Bosnia and Herzegovina. The Foundation originally started with humanitarian work. With the idea of providing support and assistance to the vulnerable population in socio-economic need, they allocated money and aid packages. However, over time, they saw some kind of exploitation and abuse of this approach, and decided to introduce an adequate system for selecting people who really need help.
"Then, over time, we decided that we will start giving scholarships exclusively to pupils and students, because that is where we saw the greatest potential for providing support in the context of support for the education of children and young people. Then, over time, we also introduced a program of support and assistance for BiH athletes, so we have several athletes who represent Bosnia and Herzegovina in international domains. We have more than good motives for perseverance, because we are guided by the slogan that "whoever does even an ounce of good, will see it!" and we also understand very well that the socio-economic conditions in Bosnia and Herzegovina are very neglected. The most attention in our society is focused on ethno-nationalist turmoil and political relations that we cannot influence so easily because it still requires more systematic approaches and systemic changes," says Čaplja.
Excellent cooperation with the authorities
The Foundation is located in 145 square meters of ground floor space of a building built in 1936, which once housed the Administrative Directorate of the Coal Mine. FMB received the space from the Kakanj Municipality at the end of 2019, and less than a year later they began renovation and adaptation. For these purposes, the Foundation conducted a competition procedure and implemented a project of job training and employment of persons with disabilities in the positions of ambassadors of protected areas. Within the project, decisions on who will be hired were finalized. More than 200 thousand BAM were invested in the project, and the main donors of the project are Selma and Zijad Berbić, founders of the Foundation, BH entrepreneurs living abroad. This is an opportunity to say that Muharem Berbić, whose name the Foundation bears, the father of the founder, was a medical technician who died during the war while providing aid. In his footsteps, with the aim of providing help and support to others, the Friends Club of FMB presents a project of rehabilitation and adaptation of industrial heritage for the purpose of employment of persons with disabilities.
"The Foundation received the premises for use for 9.5 years from the end of 2019. We can really boast of very good cooperation with the local authorities, especially the cooperation with the Kakanj Municipality, which provided us with support and help in every sense so that our project of the FMB Friends Club will be realized in October 2022. There was a lot of investment, both financial resources and time, because this is not a standard story that happens in the area of Bosnia and Herzegovina, but also more widely, in the area of the Balkans", Nerdžis Čaplja says proudly.
Although the Muharem Berbić Foundation was founded in 2015, it participated in numerous actions and projects useful for the social community.
"Our most significant investments were in BIMU – a clinic for providing free health care located in Sarajevo in the Stari Grad Municipality, and the project and program of the Friends Club of the Muharem Berbić Foundation in Kakanj. In addition to this program, the Foundation also has a day center program in Visoko, where children are provided help and support in mastering school material. Also, in addition to that, we also have a program of the Regional Development Center where we have close contact and communication with representatives of municipalities in Bosnia and Herzegovina", adds Nerdžis Čaplja.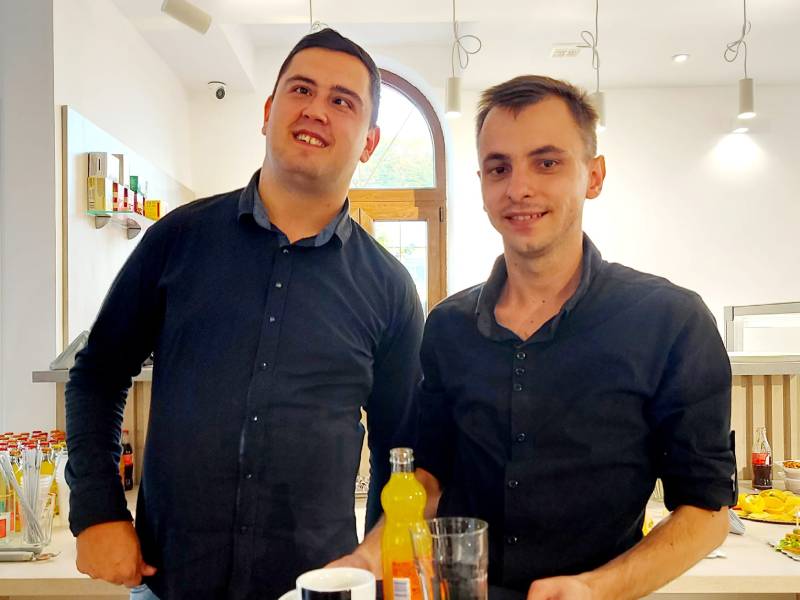 Inclusion as the highest form of philanthropy
Philanthropy and inclusion are often inseparable, although both have multiple types of opportunities, as well as needs.
"It is important to point out that through the concept of "giving" we often teach people to "wait to receive". Somehow, I think that there should be a balance between providing financial resources and encouraging individuals and groups to create and multiply these resources. I am very sorry and feel guilty that our state apparatus does not take good care of the population, due to a large administration, but also an excessive focus on ethno-nationalist issues. I think that expecting the civil sector to cover those aspects of work that should be the focus of public institutions and public concern is often too great a burden for civil society. Because, according to some definitions, civil society should be the corrector of the government, and not assume the roles that the government should perform. To conclude, philanthropy is important, but it is necessary to have a system for it and to be limited to the population that is really in great need. You see, through the Friends Club of FMB, we show that people with disabilities can also earn money and do business, and I really don't see why one person who has absolutely no physical or mental obstacles can't do it," Nerdžis Čaplja points out.
Refocusing education as an imperative, Nerdžis believes that precisely through the concept of providing knowledge and skills in areas that are not offered through regular school education, such as knowledge in the field of entrepreneurship, leadership, managing personal finances, etc., the Foundation carries out its philanthropic mission.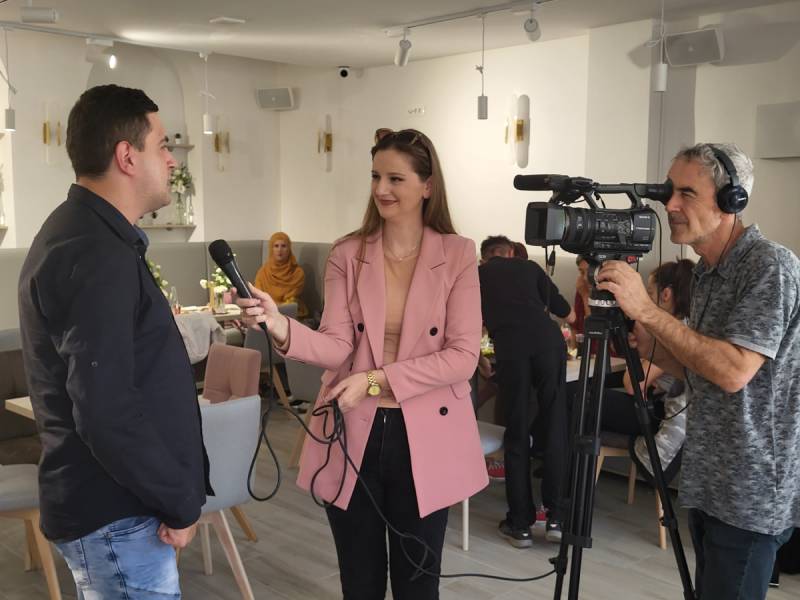 The angle of observation inspires goals
Despite all the challenges they face, the Foundation is determined and persistent in achieving its noble mission. They are a positive example of a local story that is heard far and wide and that works outside of the community. They are focused on expansion, which means that they plan to open more offices in Bosnia and Herzegovina. In addition, their scholarship holders and students come from various parts of Bosnia and Herzegovina. Their goal is to develop and expand existing programs and projects with additional activities, because they see the potential for such a thing. When we change the angle of observation of our environment, and more importantly, our actions, the path to success stories that make a change in society becomes easy. May the sentence from the beginning of this story be an inspiration to all of us: "People with disabilities actually help us here, and with this project we tried to reverse the perception and people with disabilities are a useful part of society who can work and make money."