Author: Vildana Džekman, M.Sc. iur.
I have very little information about the history of the Association "Horizonti". I met Mira Vilušić, the most active associate of this Association, at one of the trainings organized by women's organizations back in 2012. In the active nine-year work through the women's movement, Mira and I continued to see each other, but this conversation helped me get many answers, which I never had time to ask before.
The creation of the Association "HO HORIZONTI" is closely related to a group of volunteers, local professionals (doctors, psychologists, psychiatrists, pedagogues, social workers) who started providing psychological help in the Fall of 1993 to displaced and exiled women and children. It all started in 1994, when a psychologist from the international organization Norwegian People's Aid (NPA) arrived in Tuzla, with the mission of providing psychological help to women who were then struggling with war trauma. Through the mentioned project, 21 psychotherapists were employed on a part-time basis. Psychotherapists intensively improved their knowledge and skills in the field of war trauma, participating in numerous international and domestic seminars. In the period from 1994 to 1999, in addition to group therapy, individual, family and occupational therapy was also provided, and the beneficiaries were, in addition to women, people with psychological war trauma/post-traumatic stress disorder (PTSD).
Our activities have changed over the years of existence, evolved and adapted to the socio-political context in Bosnia and Herzegovina, but with a constant focus on the interests and needs of women – from psychological support, empowerment through education and awareness raising, to lobbying and representation of their human rights. Providing psychological support to women, both refugees and displaced, as well as women living in our city, we noticed the problem of violence against women in partner and family relationships and their attitude, as well as the attitude of the community that violence is viewed as a private problem and it is kept silent. Based on the identified needs, in 1996 we started a program that focuses on prevention of domestic violence, and later all forms of gender-based violence. Building and developing a program to support women and entering the issue of women's human rights, we quickly saw the lack, that is, the exclusion of women from the decision-making process and the general lack of female activism, emphasizes Mira, who has been a part of this Association since the very beginning.
In November 1999, employees, users and friends of the project "Women hidden victims of war" founded a local non-governmental organization "Humanitarian organization Horizonti", and in 2010 it was re-registered into the Association "HO HORIZONTI". Following and responding to changes in the socio-political context and the needs of the association's beneficiaries, members and vulnerable groups, they were quickly recognized as an organization that successfully and actively supports the empowerment of women in public and political life. They are very active in various networks of non-governmental organizations that contribute to raising public awareness and advocating for the improvement of women's human rights, building peace and security.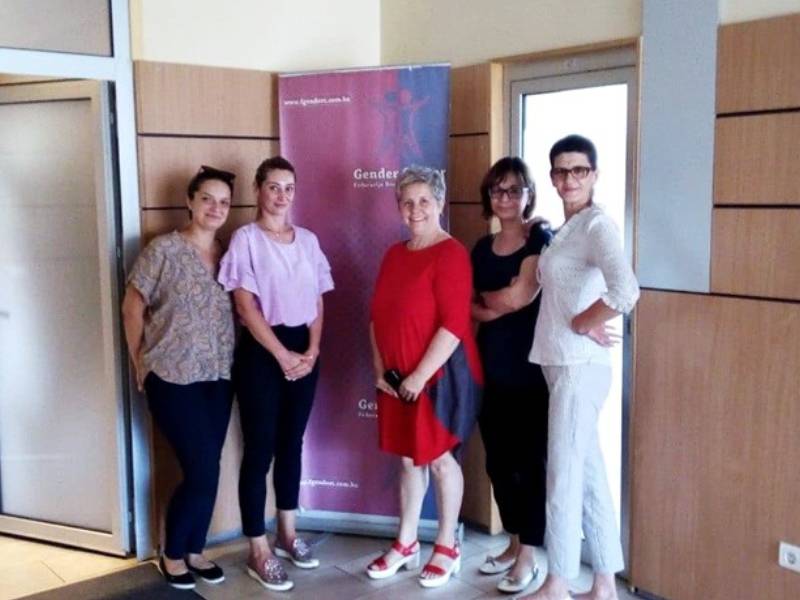 Mira recalls the very beginnings of the Association's work through psychotherapeutic work with women exiles traumatized by the war. At that time, they used the term "conversation" instead of psychotherapy, in order to avoid potential resistance from women.
To tell a discplaced person who was a victim of violence that you were doing psychotherapy with her was to treat her as if she is crazy. However, with the quality of our work, dedication to our further professional development, we managed to create positive changes in women, psychological progress forward, and very quickly we called that conversation by the right name "psychotherapy". The women accepted it quite normally and the work continued. The work of psychotherapy with women victims of all forms of violence continued, and the crown of our work in that part was joining the Women's Court in Sarajevo, where the topic of women from Bosnia and Herzegovina was rape during the war. It was a professional success, when it was achieved that the women who underwent psychotherapy in Horizonti, after being raped in the war, were ready to speak publicly about the atrocities committed against them, she emphasizes.
Until now, the Association has initiated the development of women's political activism in seven local communities in the area of Tuzla Canton. They organized informal Women's lobby groups in Tuzla, Srebrenik, Gračanica, Živinice, Lukavac, Banovići and Kalesija. Thanks to the dedicated and active work of partner organizations, a network was created in the mentioned areas and coordination was established between formal and informal women's associations and activists who are active members of the Women's Lobby Groups today. Through active cooperation, informal Women's Lobby groups have become an indispensable factor in the decision-making system at the local level, and a large number of active women from rural areas have formalized their activities at the local level. They are now working to involve women in decision-making processes that affect their daily lives.
The participation of women in the decision-making process at the local level is the essence of democracy, and democracy basically represents a partnership between citizens and authorities that citizens have entrusted to exercise power on their behalf. Many friendships have emerged from the Women's lobby groups, and various projects have been launched in the field of social and economic empowerment of women. Women's lobby groups also gave birth to elected women politicians who are still fighting for the rights of the women who elected them. A large number of initiatives and proposed changes to legal and by-laws were introduced, all in the interest of our stronger, visible and organized action in the decision-making system, says Mira.
The Association plans to continue to motivate women for greater participation in change processes through education on legal mechanisms for protection and gender equality. Psychological support for women is the core activity of this Association, through which it will continue to build positive changes in the local community, as it is one of the ways of ensuring a culture of remembrance of women's contributions.
If I dig even deeper, I find the reasons for Mira's activism. The struggle of women's human rights activists motivated her to make changes in her local community.
When I was young, when I thought about activists who fought for human and women's rights, I had a fantasy that it was something that I, with my capacities, could not do. However, the war in BiH and all the suffering of women and civilians, in a way, instilled in me that stubborn Bosnian idea that I should fight against suffering and war. I think, regardless of my capacities, that I will support that idea for the rest of my life. Now that I think about all this, I think that this is the only thing that makes me feel fulfilled and satisfied at my age. I achieved the best results in teamwork, where my capacities, as well as those of other team members, would come to the fore. Every small success of that team creates in me great satisfaction, strength and perseverance to never give up.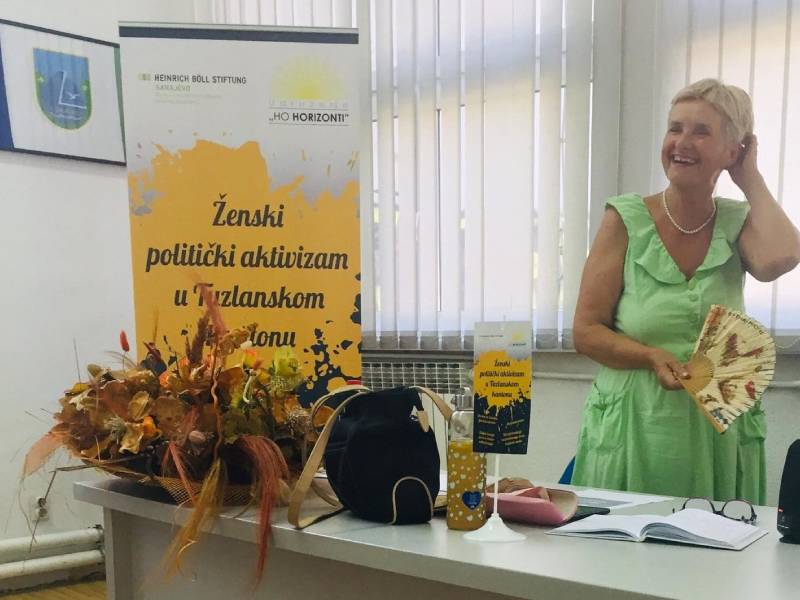 Mira believes that women and girls in our country suffer long-term marginalization by political subjects, where in addition to poverty, poor education, and difficult access to information.
Politics in BiH, which is dominated by men, is for the most part peace-breaking and does not meet the needs of women and their family members. They have been in power for many years and that is how they make their programs. At the same time, women are very little present on the political scene, especially in areas related to making important decisions and qualitative politics of reconciliation. Educating women, making them aware of the entire issue, directly leads to an increase in their activism in the desire to change the current situation. We have established a triad: education, awareness and activism, and we are starting to develop some new positive practices in that field, she emphasizes.
Mira resists burnout, which is one of the inevitable situations when you have been in activism for a long time, through rest, reading good literature and yoga. She tries to keep the child inside her, and through humor and positive energy she finds in herself, she approaches problems from a different angle. Mira considers personal resetting an important mechanism to combat burnout.
Mira derives the greatest satisfaction from her work through the changes that occur after working with survivors of violence, because as she says, they become empowered to stop it. The Women's Court and Peace with a Woman's Face projects showed her that she can push her own boundaries through action in the local community.
Mira believes that the transgenerational transfer of knowledge from more experienced female activists to younger ones, as well as the acquisition of knowledge, skills and energy possessed by young female activists, is one of the important instruments in further processes of change at the local level and activism in general.
An attempt to establish the right synergy so that we get the best of each other. Break down stereotypes, learn, be in solidarity and support each other, because only through teamwork and strengthening the women's movement we can achieve change, concludes Mira at the very end of this conversation.
For me, Mira and Horizonti will be a place where I can always freely stop by and have a cup of conversation with the inevitable humor of Mira that stimulates and wakes you up. Mira will always be a motivation for me, as the activists from the past are for her. For me, her perseverance and faith in change is the strength to turn the wheel once more. The feminism that characterizes this Association will always open the door for any woman who visits them, without prejudice or questioning, because Mira's school, which she passes on to new associates and members of the Association, is the best school that I myself had the opportunity to go through. Dear Mira, keep smiling and stay with us, we need you to move our wheels when those wheels sometimes get stuck.
*Vildana Džekman, M.Sc. iur. is a long-time activist, feminist and fighter for women's human rights. She has a master's degree in international law at the Faculty of Law, University of Sarajevo. She currently works in the German organization Help – Hilfe zur Selbsthilfe e.V. BH and considers writing a part of personal and public responsibility for changing social reality.
Email: vildana.dzekman@gmail.com