Author: Eneida Alibegović
If you are heading towards the heart of Bosnia and Herzegovina, then you should definitely visit Bugojno, because it is a city in the heart of our country. The little prince taught us that only the heart can see well, and the heart of this city is also made up of lovers of theater, dolls, playfulness and children's world. One of them is Sanja Krnjajić, who, wanting to restore playfulness and fun to children in the years not so far from the war, created the creative workshops "Zabavnica". And from that year in 2004 until today, Sanja and volunteers make children's world more imaginative. And not only that. It was also an incentive for the development of the children's stage and children's puppet theater in Bugojno, a city that was, and still is, known as the Puppet Republic. This is also the beginning of the story about the Children's Theater "Eko Art" in Bugojno and those who are a good example of how individuals and groups bring positive changes in their environment.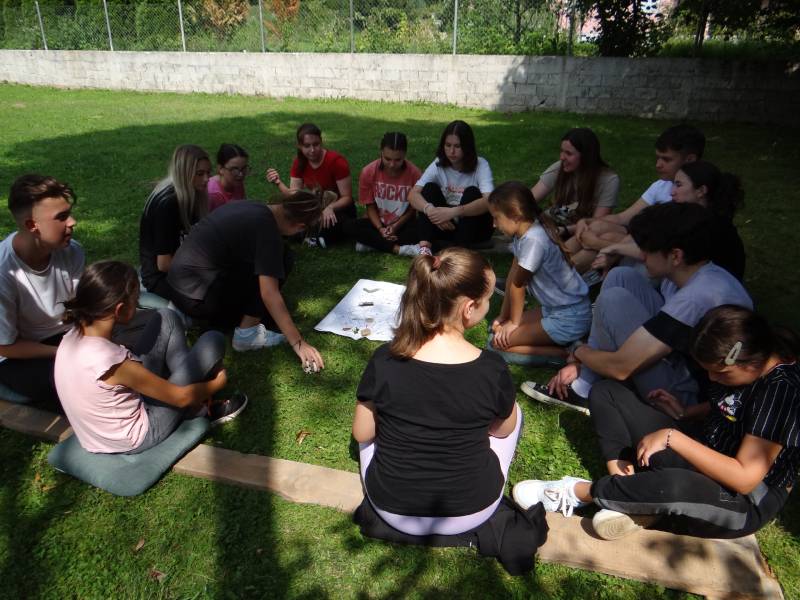 From fun to serious game
During the summer of 2004, 100 children aged 4-14 participated in Eko Art's "Fun Games". All workshops were held in the unfinished Crafts Center, and exhibitions and performances were seen by more than 200 children and citizens. And that's how it started and continues to this day, voluntarily and successfully.
"The Eko Art Children's Theater has been in existence for 18 years and during that time it has staged 30 plays on the big and small stage, 14 of which are intended for children, 10 author's plays by young people for young people and 4 co-produced plays with the Association for Children and People with Dissabilities "Butterfly " and the Phaedra Theater. Since Bugojno is also a puppet republic, with the aim of reviving puppetry in Bugojno, we created 5 puppet shows and a combined play-puppet show.
We regularly participate and represent Bugojno at children's and high school drama festivals, drama meetings, festivals of author's works and represent an important part of the network of amateur theaters of Bosnia and Herzegovina under the leadership of the Center for Drama Education of Bosnia and Herzegovina. Until today, we have not participated in a competitive festival, without bringing an award to our Bugojno.", points out Sanja Krnjajić, drama pedagogue and one of the founders of this theater.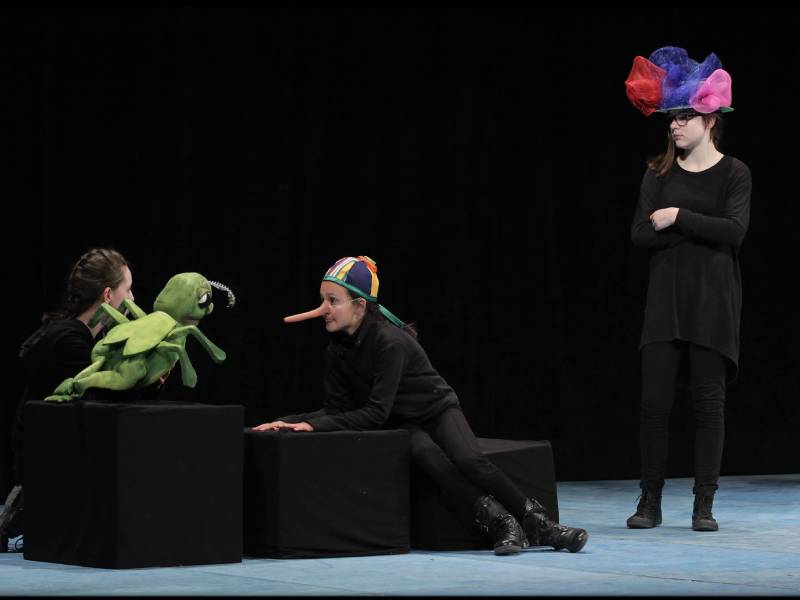 There is no story without puppets
And while I'm recording this story, somewhere in the background I hear a murmur. Dolls want to tell their story, because they, like children, have a voice. In Eko Art they talk with children and young people about all important topics. In Eko Art, everyone is equal, only some dolls are a little louder than others.
Listening to that murmur, Sanja recalls:
"Some past childhoods were special – shiny and fluffy. Full of puppets and their puppeteers, full of laughter and joy in the semi-darkness of a large, real theater hall. And some childhoods in the early 2000s were threatened with being robbed of such memories in advance.
And then we stood up. Out of spite, rebellion and need. The need to beautify the childhoods of some new bright-eyed ones, to set beauty against all the ugliness and horrors that were given to them."
And a slightly louder doll, adds:
"My name is L. I'm a doll. I am very tiny, I am only 4 years old. I have friends. A lot of friends. I like talking to them. And you know what? Now I also have reeeaaaaalllll friends. Aha! And we play seee…..oooooooo, and we tell stories, and we play stories and all kinds of things… The most important thing is imagination! Yes, that's what everyone says! You just have to imagine, and imagine, and play and never stop playing! In stories, there is always someone who is mean and someone who makes everything better in the end. Well, I like stories like that the most, and that's when we play best! And then, when we train well, well, then – tra ta ta ta – we perform! In front of a great audience! And then the lights go out, and then the audience that comes sit down and be quiet and then we tell the story. And when it's over, let's take a bow."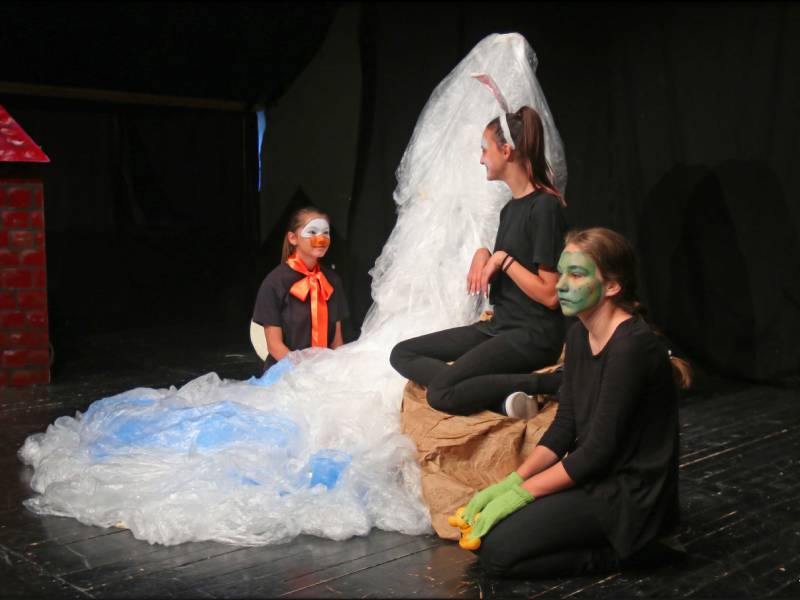 "Telling stories is important, very important. It is important to interweave your childhood with pirates, princes, poor and rich girls… Magical horses and frogs, the sounds of fanfare at the opening of the festival or the sounds of flags happily tapping on the masts, as if they want to brag to everyone about another show, another festival… adds Sanja.
Hardly waiting for Sanja to finish, the doll continues:
"Hi, I'm L.! Now I'm all grown up – I'm going to school! A real, real school for dolls! And learning letters and learning how to wave, and learning how to stand and sleep and everything…. It's a bit difficult for me, now there's a lot of everything: we're learning about an ugly beauty and a good one… I think that now all my friends – dolls have learned that beauty is inside, in the heart, not on the outside … And I already know how to speak. It's important, you know, it's very important… because now I'm also chosen to lead programs at school, because I speak so beautifully. That's why I'm proud. And I'm just like that, I'm glad when I'm praised!"
And how dolls, children and young people grow in Eko Art?
"We create the small, magical world of Eko Art through drama workshops, play out and question fairy tales, myths and cultures, explore good and evil and create some of our own stories. We talk about love, goodness, evil and fear. About elves, but also wizards; about the world of fairy tales, but also reality. And we always, always talk about those who are different from us, we always stand on the side of good and justice, we always learn about understanding and respect. And with every new story we learn. And we give a voice to those whose voices are not heard", emphasizes Sanja.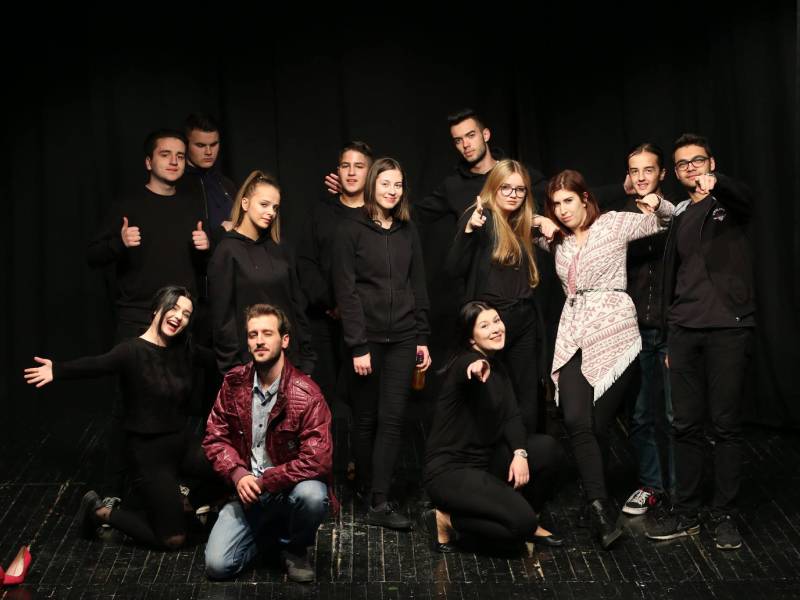 Since 2010, as children in Eko Art grow in the best and broadest sense of the word, high school students create their own plays. Exploring drama techniques, under the guidance of drama pedagogue, Sanja Krnjajić, young people talk about their feelings, anxieties and problems, in their own way – very passionately and strongly. These author's projects do not leave anyone indifferent, which is why they won the largest number of awards, as many as 12 so far!
"DP Eko Art is a socially responsible amateur theater for children and young people, and we base our work on drama education. Drama education is education for life, in which children and young people are inspired to reflect and actively participate in the creation of a creative community, open to differences and peculiarities. In a safe environment, they question and explore, adopt cooperation and compromise as living techniques, get used to being part of the community, and at the same time grow into healthier, smarter, more compassionate and better people.
This is supported by the topics that DP Eko Art's shows deal with: they teach children the basics of morality, honesty, and ecology from the youngest age; through theater, young people question the pressure of the environment and peers, violence – individual and systemic, they critically question today's education and investigate the dysfunctional family, school and maladjustment, addictions. We initiate, organize or join important events in the community: we organize performances on socially current topics: against gender-based violence, we celebrate 16 days of activism, Theater Night, we support the activities of the Association of High School Students of BiH, the associations "Butterfly" and "Sunce" from Bugojno in the promotion of culture and sports and socializing among children and young people", explains Sanja.
And the doll will have its say:
"Hi It's me! What do you mean who, it's L. So yeah…. I am already 15 years old! Yes, yes, I'm still here, so where else would I be! Luckily I'm here… Well, you know, when every day you have more and more crossroads in front of you, more and more choices, and you don't know which one is the right one? My head is full of worries… well, all kinds of things… I worry about whether they will love me. I worry if I'm good enough. I worry if I know enough. And then, I'm back in my world, in the world of dolls, and I know – everything will be fine. I'm the old me again: playful, relieved, surrounded by dolls who understand me completely… and who have the same worries… And we rejoice together… we banish worries together. My little, magical world. And somehow, just like a miracle – that's how I always found out which is the one, right path at the crossroads."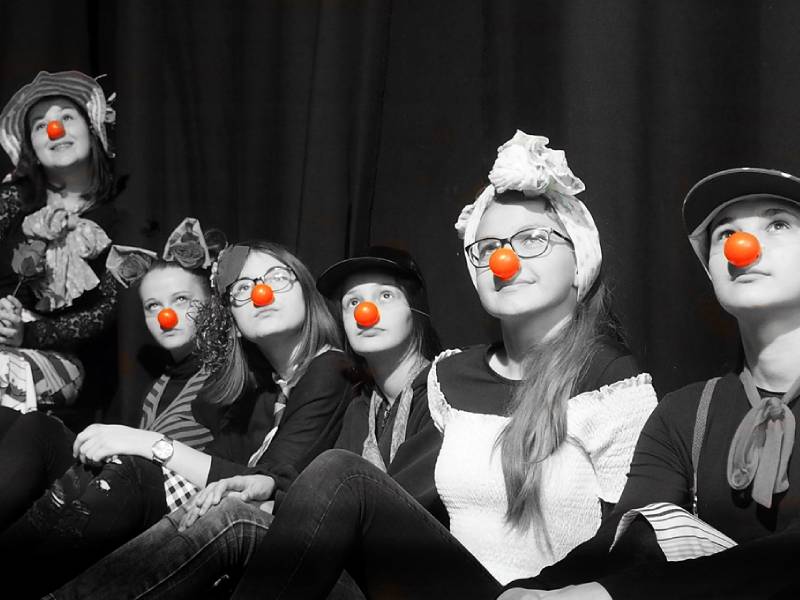 "It is an indisputable fact that children grow. Thus Eko Art has become a children's theater and a youth theater, a theater where wonderful young souls have been creating their original pieces for a decade. About everything that fascinates, hurts, worries or makes them happy. And that always both hurts and pleases those who watch. Thus, young mature souls are questioning the pressures of the environment and peers, being surrounded and silently agreeing to violence of all kinds and forms. Young mature souls fiercely question the dysfunctional family, today's education, their own schools, alienation and maladjustment.
Through puppets, play, reality or imagination, Eko Art lives drama education," adds Sanja.
Lejla grew up in Eko Art. She is now 2 years older than the theater, so 20, and is a student who talks with a wide smile on her face:
"I know I'm worth it, I know I'm skilled, I'm sure I can succeed in what I want. I speak gladly and often. That's what my safe zone gave me, my escape from reality, my second home. In Eko Art, I could be me, the real me, without fear or restraint. I learned to look and speak with my heart. I learned to speak, perceive and empathize. It's as if my favorite playground, my family, psychology and my favorite teacher all met in one place… School outside of school, on completely different pillars. Stronger, more stable, the more they go to the sky, you can't see their top… Well, that's how children grow in Eko Art."
140 children in two age groups have participated in Eko Art's performances, workshops and numerous activities since 2004 until today, and the performances are seen every season by 800-1000 spectators in Bugojno and on guest appearances in Travnik, Vitez, Mrkonjić Grad, Sarajevo , Mostar, Tuzla, Donji Vakuf, Gornji Vakuf-Uskoplje, Jajce, Gračanica, Živinice, Goražde, Banja Luka, Srbac, Novi Grad, Konjic, Novi Travnik…
The success of this theater has been recognized at numerous festivals
During the past 18 years, DP Eko Art has brought a number of awards and certificates for participation and support to Bugojno (26 in total). They are especially proud of the fact that their plays receive recognition for their drama and pedagogical work and educational elements. It should be said that 4 plays were awarded for theater education of the youngest; 2 for puppetry and combined techniques; 6 author's projects of young people were awarded for idea, template, text, collective game, performance as a whole, as well as for 5 acting achievements.
Special mention should be made of the recognition for systematic drama education that was awarded to the play "On the Edge" at the 47th Festival of Drama Amateurs BiH FEDRA 2018, which was included in the FEDRA competition program for the first time as a youth play. DP Eko Art was also awarded by the Center for Drama Education of Bosnia and Herzegovina, for "successful creative, professional, methodical and organizational drama-educational work in the local community in the Children's Theater Eko Art" in 2016 and in 2018 recognition for the overall contribution to the development of drama education in Bosnia and Herzegovina.
Special awards for the promotion of puppetry through drama education were awarded to DP Eko Art at the Meetings of Puppet Theaters (2012) and at the X Puppet Biennale in 2019.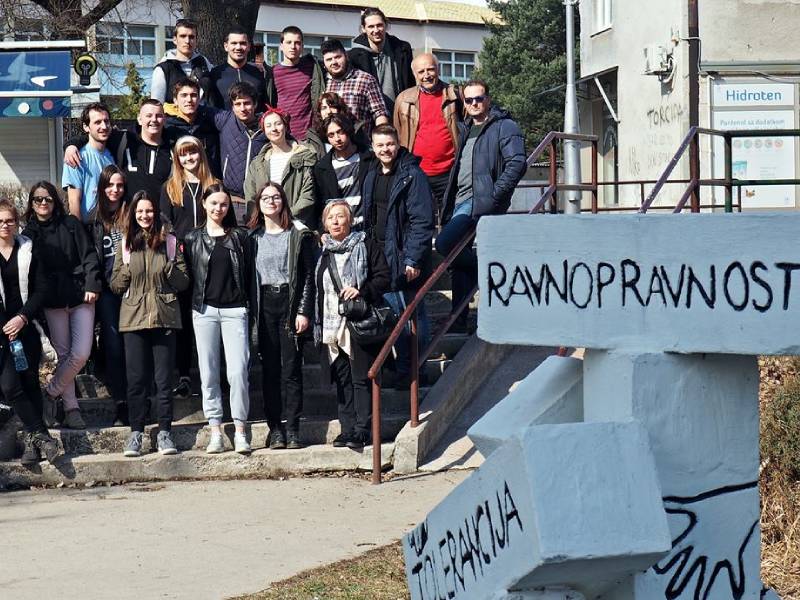 Playfulness and love for theater contribute to peace building and networking
As an important part of the promotion of theater and Bugojno in other areas, DP Eko Art organized the Youth Theater Camp BuJaMo (2017 – Bugojno, Jajce, Mostar) and BuJaMo 2 (2018 – Rostovo, Bugojno). 6 youth teams from Bugojno, Jajce, Mostar, Banja Luka, Živinice and Ljubuški participated in the camp. The stay in Bugojno and the hosts of Eko Art were considered exceptional by all the teams, and the value of such a camp, where young people meet and create together, break prejudices and create lasting friendships, is priceless.
In 2019, with the help of donors, a 3-day SolidArt festival was organized: "Solidarity and art creating understanding", in which theater groups from Mostar, Banjaluka and Bugojno speak on behalf of minority, neglected individuals and groups in society: children and people with developmental needs. The play "Severin's Dream" is the first play in which young people from the Association of Children and Persons with Special Needs "Leptir" and DP Eko Art participate together on stage. The play was performed several times, and in Mostar it was awarded the "Mravac" prize for its educational effect.
Creativity against the pandemic
Despite the pandemic and the complete interruption of direct work and the impossibility of playing in front of the audience, in 2020/2021 DP Eko Art staged as many as 4 premieres: a play for children, two plays for young people and a theater premiere in the community with the Association "Leptir", which they are extremely proud of.
"Continuous work with children and young people is extremelly important and must be continued during difficult and uncertain periods, as a form of care for the mental health of children and young people. Although in a modified form, despite the pandemic, we participated in the TRANSFORM project, which gathers young people from over 20 cities in Bosnia and Herzegovina, and helped our member Semina Sadiković publish her first book of poetry. We also participated in the 18th Festival of High School Drama in Konjic, and we brought 3 awards to Bugojno.", representatives of the theater point out.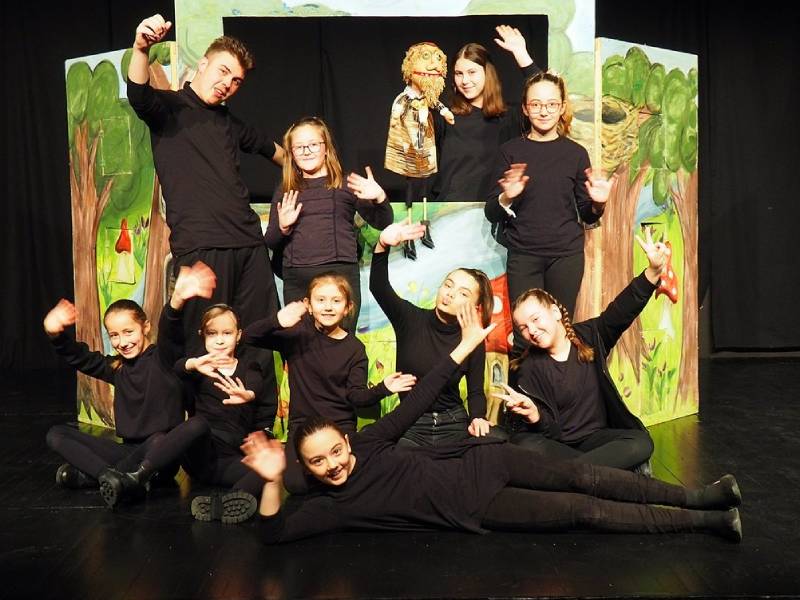 Philanthropy in Eko Art
Since its inception, SOE "Eko Art" has been run exclusively by volunteers and since 2004, not a single fee or remuneration has been paid, but all funds are always directed to the creation and presentation of performances, both in Bugojno and on guest appearances. Thanks to the cooperation with KSC Bugojno, DP Eko Art uses the storage room free of charge, all administrative tasks are implemented by volunteers without compensation, as a contribution of adult volunteers, which significantly reduces operating costs. Since last year, appreciating the importance of working with children and young people, part of the funds for Eko Art have been allocated from the Budget of the Bugojno Municipality. What makes this theater different and important for the local community, among other things, is the encouragement of children's creativity and the possibility for children and young people to create plays themselves, drawing attention to problems and phenomena that they consider important.
It also encourages those from the "world of adults and responsible" to think more easily about the world of children and young people, looking for a way to help and support them in a world where growing up is full of challenges.
And if you wonder how all of this lasted for so many years – the only real answer is: In Eko Art, children GROW!
"We are important because children and young people overcome their fears, suppress anxieties and break down walls, their own and those around them. They develop critical thinking and compassion.
We are important if they get rid of nervousness, master public speaking skills and the culture of dialogue. They become part of the team and breathe as one.
We are important because they learn to love the other and the different, even if it is foreign and unknown. They open new horizons and learn that only "the heart sees well".
And we can be the most important: that only one child overcame its fear and became more confident in itself. And that only one young being no longer breaks its fingers and breathes without shackles. And if they replace their dark and noiseless caves filled with fears with the light and noise of a joyful day.
And we succeeded only if we broke down the walls and borders so that they could fly further and higher." , points out Sanja Krnjajić.