"While I was doing tests, ultrasound, mammography, and biopsy, I didn't even think it was cancer. I was hoping it wasn't that. When they finally told me the diagnosis, it was a shock, because you don't expect to have such a disease at such a young age. Chemotherapy and radiation followed, my bones suffered and I got osteoporosis. But I had a lot of support from my family and friends who stood by me. And now, after using smart medicine and therapy, I'm fine. The treatment is still ongoing, but I believe everything will be fine".
This is the story of Dzana, a woman who, at only 36 years old, received the most difficult diagnosis – breast cancer.
Dzana is one of the hundreds of women in Bosnia and Herzegovina who fights this disease every day. Cancer of any kind is a challenge that none of us wants to go through, but unfortunately for many it is a reality. And precisely in those most difficult moments, it is equally important for patients to have the support of family, friends and the community in addition to quality medical treatment. Dzana also found that support in her friends, members of the Association "We are not alone" from Gracanica.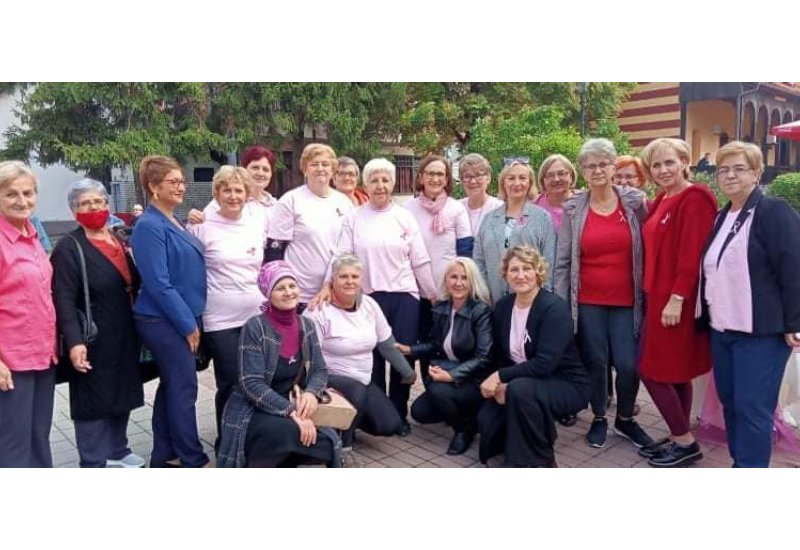 The Association was formally founded two years ago, but precisely because of the need to share their experience with each other, several women who fought with breast cancer. Ten years ago they started gathering at the Mental Health Center at the Gracanica Health Center, where they received psychological support. Each of these women has experienced the fear, sadness and uncertainty that comes with this difficult diagnosis. Instead of letting the disease overtake them, they decided to fight.
Their first mission was to provide emotional support to women who had just learned about the disease. Because each of them knew how important it is to have someone who will understand and comfort you in those difficult moments. They shared their stories and were a shoulder to cry on.
A woman is a woman's support
Association's President Murisa Bricic had breast cancer surgery (mastectomy) in 2001, at the age of 41. At the time, not much was known about breast cancer. The first address was usually the gynecologist, and she was lucky that breast cancer was detected in time. There was no psychological help, so the women supported each other. That is why the main goal of the Association is to educate patients about the disease itself, methods of treatment and diagnostic tests. With their work, they want to contribute to the creation of better, more humane and healthier conditions for cancer patients and those being treated, and to provide support, self-confidence and faith in healing and a better future through mutual gatherings and the exchange of experiences.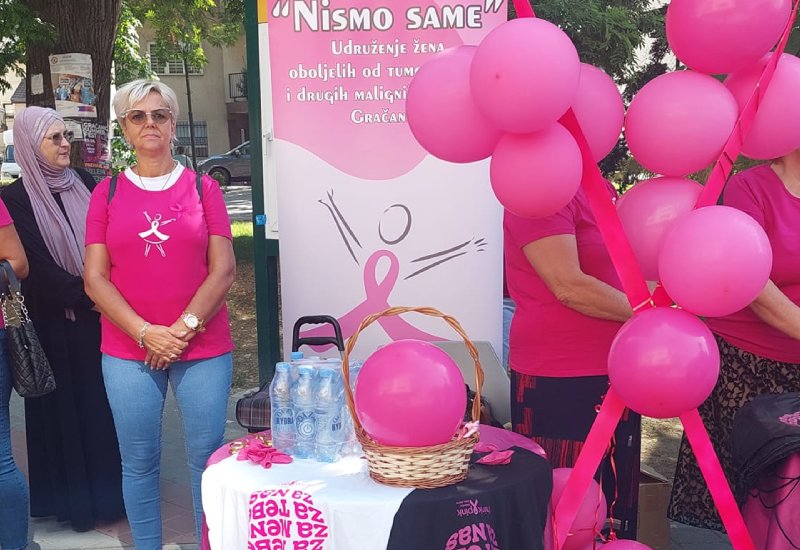 "We call each other sisters. We have 44 members. We are each other's friends, we help each other, we exchange recipes, advice on nutrition, we go for check-ups together or get the lab results for each other," explains Murisa Bricic for Local Works.
In the fight against cancer, listening, a kind word, a hug, and even just a Viber message sometimes mean as much as the treatment itself. Because the feeling that someone understands you and helps you can be extremely relieving. Dzana joined the work of the Association immediately after receiving the diagnosis, at the invitation of President Murisa.
"After receiving several chemotherapy treatments, I managed to go to an association meeting where I met thirty smiling women. They all sent me words of support that mean a lot at that moment, especially the information that some of them had surgeries 20, 15, 10 years ago and have gone through what you are going through at that moment and that there is hope for you too. I received many advices from them, because doctors don't have time to devote themselves to each patient individually, and in those situations the members of the Association help a lot," says Dzana.
Initiatives for a better position of patients
The commitment of Murisa and other members of the Association did not stop only at emotional support. They quickly realized that they could do much more. They began to collaborate with other associations and organizations dealing with breast cancer to work together to improve the situation of patients. They organized campaigns to raise awareness about the importance of prevention, regular examinations and breast self-examination.
In addition, they actively engaged in lobbying for better access to treatment and patient care.
They launched three new initiatives to improve conditions in health institutions for the treatment of oncology patients (expansion of the day hospital in Tuzla for oncology patients, providing transportation for patients from Gracanica to Tuzla, and launched an initiative for the Health Insurance Institute of Tuzla Canton to finance genetic testing for certain types of cancer, such as in Sarajevo Canton). However, President Murisa singles out two actions in particular: mobile mammography examinations in the local communities of Dzakule and Lukavica near Gracanica, organized with the help of the THINK PINK organization.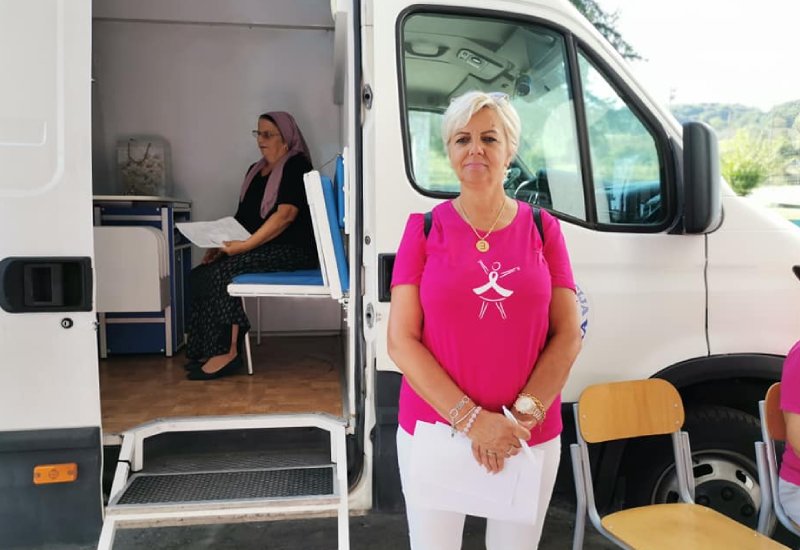 "In Džakule, 55 women were examined, and two findings were suspicious. One woman had a surgery within a month, her tumor was in the initial stage and she will only have pill treatment for the next five years. This mother of three's life was literally saved, thanks to that examination. The other woman goes for regular check-ups and is doing well for now," says Murisa.
This year in September, mobile mammography with ultrasound examinations was organized in the local community of Lukavica for almost 80 women, and none of the findings were positive, which pleased everyone in the Association.
As for the members themselves, despite all the challenges that the disease brought them, they never lost their smile or their will to live. Their positive energy and enthusiasm are contagious, and their courage and commitment are an inspiration to many.
There are many problems faced by cancer patients in the Tuzla Canton. The day hospital in University Clinical Center Tuzla, where therapy is received, has insufficient capacity, so it often happens that two people receive therapy on one bed. The promised expansion of the ward is still waiting. The linear accelerator for therapies has not been working for months, so patients are sent to other cities. Many therefore gave up treatment. According to the authorities, the new device has been purchased, but it cannot be put into operation until the appeal period for the tender procedure passes.
"We just like to be with each other. We have not neglected other friends, but our communication is such that we laugh together and cry together, because we understand each other best. We crack jokes about our illness, someone who did not have cancer may not understand it, but that positive energy is our path to healing," says Murisa.
Pink October
October is breast cancer month. Last weekend, RACE FOR THE CURE was held in Sarajevo, a walk for which more than 10,000 people registered this year, and a record 200,000 KM was collected. The money will also be used for free mammography examinations that the Think Pink organization performs throughout Bosnia and Herzegovina. 34 members of the Association "We are not alone" participated this year.
The members of the Association work a lot to raise awareness about breast cancer prevention. They organized self-examination training even in high schools. In the month of breast cancer prevention, they will organize several more activities dedicated to the early detection of cancer, and on October 22, the celebration will continue in Gračanica with the gathering of more than 100 women from 6 associations. If after that at least one woman goes for an examination, we are satisfied.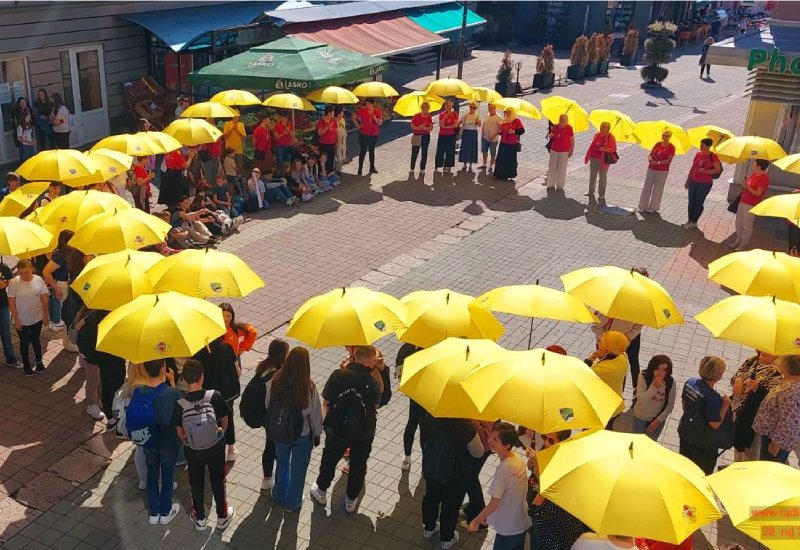 "I had surgery 22 years ago. At that time, little was known about cancer and prevention. That's why I'm grateful for every second I got. I saw my children grow up, finish school, get a job, have a family. This is something that motivates me to work to help other women feel better. Our main mission is for women to perform self-examinations, even 15-year-old girls, because unfortunately the age limits are shifting," says Murisa at the end.
Breast cancer is the most common malignant disease in women. It is believed that one in 8 women gets breast cancer. Preventive breast examinations enable early cancer detection and more successful treatment.
Every day is an opportunity for Murisa and her friends not only to overcome their illness, but also to help others in their struggle. Their Association became a beacon of hope, a community that proved that working together can bring about change. These incredible women prove every day that with love, support and togetherness, even the most difficult challenge – breast cancer – can be overcome. And their only message to all women is – do regular examinations and self-examinations. It can save your life!
Author: Vedada Secerbajtarevic
---
This article was written thanks to the generous support of the American people through the "Local Works" program of the United States Agency for International Development in Bosnia and Herzegovina (USAID). The contents of the publication are under the exclusive liability of its author and "Network for Building Peace". The views expressed in this article do not necessarily reflect the views of the USAID or the US Government.