Author: Mirnes Bakija; Photo: Mirnes Bakija
The Association "Obraduj Nekoga" helps socially vulnerable babies and children throughout Bosnia and Herzegovina. The Association emphasizes that their goal is for all children to grow up carefree and to help parents who are poor or sick. In the beginning, they visited one baby a month, to whom they delivered the necessary products, and today they visit four babies in one day. Through various projects, they have helped many children, and last year they opened the first public kitchen for babies in Bratunac.
Aida Sadiković Mehonić, president of the Association "Obraduj nekog", says that the idea to start this humanitarian association came when she had a son. She explains that she did not think about socially vulnerable babies before, until she herself saw the high prices of the necessary products.
"On one occasion, a friend confided in me that she could hardly afford bread, let alone everything the baby needs. That was back in the period when everything was much cheaper than today. That's when I realized how vulnerable mothers and newborns are in our society, and I decided to start an association", recalls Aida.
The Association implements various activities, and the primary project is "Idemo na babine". It is a field campaign in which they deliver baby packages to the most remote places in Bosnia and Herzegovina, in order to help socially vulnerable mothers, who do not have any help from the state.
Since last year, they have also been implementing the project "Gift to pregnant women", through which they help all unemployed pregnant women.
"We send one package each, which consists of all the necessary products for a newborn. Pregnant women can apply themselves for a gift on our website, and they need to submit personal information, as well as proof of unemployment and pregnancy. We send packages by express mail, so that the shipment can reach any part of BiH", explains Aida.
The Association also helps school children, and they especially focus on equipping schools in rural areas, which have a small number of students.
"In addition, we also help children from poor families who are excellent students. We are proud of this action, and especially that we do not expose these children. We manage to provide them with tablets, laptops, transport tickets and other necessary things", adds Aida.
The Association opened the first public kitchen for babies in the region
In November last year, this Association opened the first public kitchen for babies. The kitchen is visited by people from Bratunac, Srebrenica, Milići, Konjević polje, as well as other surrounding villages. The Association points out that with this project they managed to cover the easternmost parts of the country.
"The public kitchen has 30 regular users, who receive a meal for the baby every day. Meals consist of porridge, polenta, semolina, biscuits, as well as other foods depending on the need. At the end of each month, users receive a package of diapers, wet wipes and a cosmetic set. In addition to regular users, the kitchen occasionally helps an additional 75 babies," explains Aida.
The public kitchen for babies was opened through a public call from the Canton of Sarajevo, which was related to improving the quality of life in the Podrinje region. The Association applied for a public kitchen project for babies, with a special emphasis on healthy meals.
"We received about 28,000 BAM, which was enough for four months of kitchen work. During the first months of work, we presented the project through social networks, in order to collect more funds. Many people and private companies donated. Some media got involved and helped to collect the products that are needed to continue the work of the kitchen", says Aida.
The Association explained that an attempt was made to politicize the project, especially because Sarajevo Canton participated in its implementation. On the other hand, given that the public kitchen for babies is in the territory of the Republika Srpska entity, there were also criticisms.
"The first public kitchen for babies in the region, and perhaps in Europe, is not our problem, but the problem of those who reluctantly led us to such a situation," adds Aida.
The biggest problem is child neglect
The Association points out that they encountered many difficult situations and life stories through their work. During the corona virus pandemic, many parents died as a result of the infection, and children were left to fend for themselves. A large number of parents are sick, suffering from cancer and other serious diseases. Aida says that she was particularly emotionally touched by the case when the father died a few days before the baby was born.
"Nevertheless, the most difficult of all is the neglect of children by their parents or guardians. We have had cases where the child does not know what class he is in, where the degree of neglect can be seen immediately. The competent institutions are not doing their job, and we cannot help much," explains Aida.
There are also many cases where children developed severe allergic reactions and lung damage due to the consumption of cow's milk at an early age. The Association proudly points out that by purchasing the adapted milk formula, the babies recovered very quickly.
Due to inflation in BiH, more and more socially vulnerable babies
Aida points out that due to the constant rise in prices, there are more and more socially vulnerable babies in Bosnia and Herzegovina. She explains that they also had problems with the operation of the kitchen for babies, considering that through the project they quoted the prices that were on the market at the time.
"For example, the price of one liter of milk back then was about 1.20 BAM, and now the price is almost two BAM. The adapted milk formula that we buy today is from 10 to 15 BAM. However, the price of this product goes up to 30 BAM for children who are allergic and have some diagnoses. There are some adapted formulas that cannot be bought in BiH at all and cost 600 BAM each. Those children have a complete intolerance to gluten, and we manage to provide that for one such baby from time to time", explains Aida.
He says that it is ultimately individual how much a baby will drink adapted milk formulas, and adds that some babies consume up to three packs of this product per week. Diapers cost about 25 BAM, and the consumption depends on what period the baby is in.
"When my boy was teething, I used to use up a large pack of diapers in seven days, because babies often have diarrhea at that time," recalls Aida.
The Association also implements a smaller project "Easier through the first cold". Babies are provided with paracetamol, D drops, probiotics, as well as other products that will help them get through the first cold more easily. Aida says that a large number of medicines cannot be obtained by prescription, so this modest package of medicines worth 30 BAM will help them a lot.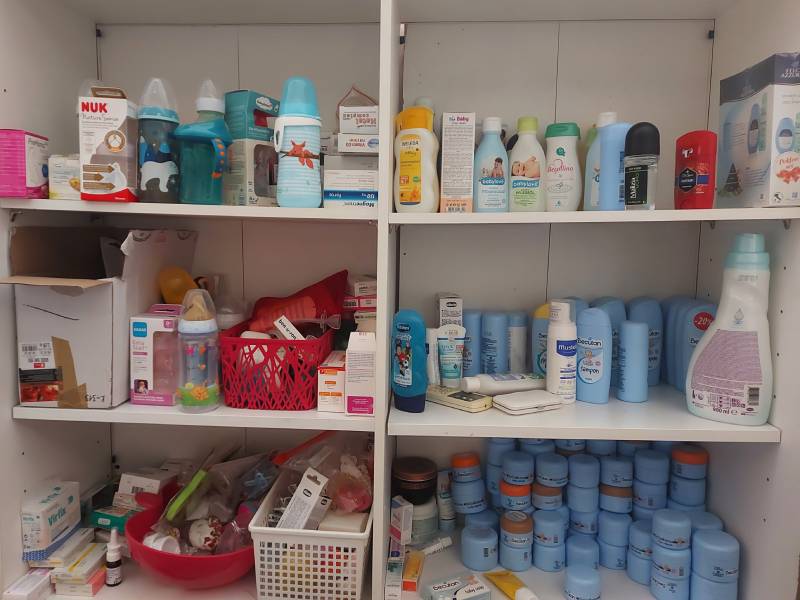 Maternity allowances in Sarajevo Canton made it much easier for mothers
The Association explains that since the beginning of work, they have had many challenges, such as the pandemic, but also current price increases. Regardless of the difficult situation, they try to help mothers overcome the crisis more easily.
"I have to admit that the difference in maternity benefits in certain parts of BiH showed the real picture of our country. Our goal is to reach the socially vulnerable, who really need help," says Aida.
Because of the compensation of one thousand BAM, which mothers receive in Sarajevo Canton, they decided not to help those babies anymore. Funds are now being redirected to children who are older than one year and were not included in this program.
"This compensation in Sarajevo Canton has helped parents a lot, especially the unemployed. In contrast, for example, to parents in Central Bosnia, who don't even have child benefit," says Aida.
She proudly points out that they work with babies of all nationalities throughout Bosnia and Herzegovina.
"We are not interested in anyone's nationality and past. To us, all babies are equal, because we only want the best for children, and then they will grow up to be good people tomorrow", concludes Aida.