Author: Mladen Lakić
After the recently held ninth "Pumpkin Days" festival, Roksanda Mičić, president and founder of the Association "Probudi se/Wake up" from East Sarajevo, says that her fellow citizens most often recognize her precisely through this event.
Pumpkin, as one of the healthiest vegetable crops that thrives in our region, has in a certain way become the trademark of the Association founded in 2014 precisely through the Festival that took place this year on October 8 and 9 in East Sarajevo.
"Wake up, something is happening, don't say you didn't know it, and your fate is set, you might regret it one day" is a quote from Duško Trifunović, and it is with this verse that Mičić explains why she started the Association titled "Wake up".
"It is obvious that the established system has many flaws and that there has been complete apathy and even hopelessness of the people. The system has achieved a complete defense mechanism and the impression is that it cannot be changed. In reality, we see that it can be changed and improved on a micro-level, i.e., in your family and your community. And this can only be achieved in a way that each individual must wake up and contribute to his_her community through initiatives and activities in the community, as well as expressing his_her opinion and demanding his_her rights, and the best way to achieve results is through an association," says Mičić.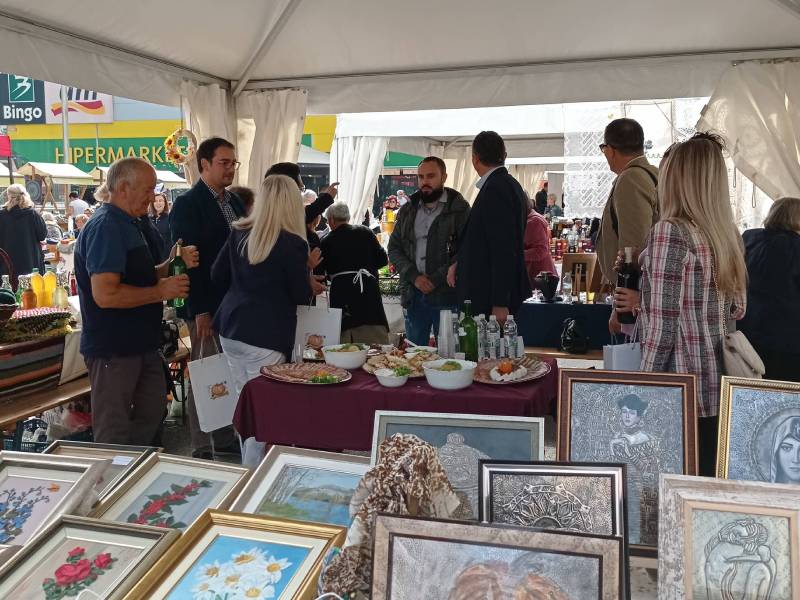 The basic idea of the association is the promotion of food and beverage production, agriculture and entrepreneurship, which is best reflected in the slogan "buy local, eat healthy".
By home we mean everything that is grown in the suburbs of East Sarajevo, food that is produced with their own hands mostly by retired women and, as they call themselves, housewives, who make up the majority of the membership of this Association.
It is at the "Pumpkin Days" event that visitors can see what all these women from East Sarajevo can and do and create with their own hands, in addition to the imposing examples of this plant, whose weight in our region exceeds 80 kilograms.
This year, slightly more than 40 exhibitors presented their fruit products, such as jams, juices, herbal creams and salves, honey, and various handicrafts.
The aim of the event is to connect with similar associations from all over Bosnia and Herzegovina, so, in addition to associations from the Sarajevo region, there were also guests from Prijedor, Bihać, Banja Luka, Trebinje, Jablanica, etc.
As they say, their desire is to get to know each other, but also in one place, such as this manifestation, to get to know the population with everything they do. They hope that the owners of local shops will also recognize their efforts. Regarding what it's like to cooperate directly with local businesses, Mičić says that there is declarative support, but that more concrete cooperation is still lacking and we need to work more actively on that.
Strengthening the visibility of women from these categories, their inclusion in the social life of this city are, as Mičić says, the main ideas that guide him.
"Changing things around you, based on the bottom-up principle, so that everyone changes what they can in their environment, so that our society will be better," Mičić says when asked what her motivation is in her work.
She recalls that in 2013, a group of women from Vojković (a suburb of East Sarajevo) participated in the cleaning of this part of the city, and a little later in the sale of fruit products in the same neighborhood.
These were, in fact, the first steps of what would formally become the Association Probudi se/Wake up.
In those days, as Mičić said, there was no thought of a formal association, simply, the goal was to make the settlement more beautiful, cleaner.
The sale of fruit products itself was an opportunity to gather all those women who are "invisible" in a certain way in one place: housewives, retired women, all those who take care of everything in their households but with very few opportunities to talk about their work to others.
"An individual can do a lot on its own, but an individual is stronger and more successful when it joins with others. Individual can more easily act and influence society. And every action and success leads to positive changes in the community, no matter how big they are, 100% or 1%, which is still more than zero, i.e. everything is better than the situation if we do not wake up, do not act and do not fight with what is not good," says Mičić, explaining how important this type of association is.
It was an opportunity for them to exchange ideas, experiences, and advice with others, but also to make some money by selling their works.
Retirement is an emotional event for many, followed by a kind of shock and the process of adapting to a new, completely different pace of life.
Being unemployed, retiring, for many women in our society, often means being without various social events.
By becoming a member of the "Wake up" Association, dormant talents are awakened, and time is found for all hobbies that were left for "another day".
Through several sections in this Association, such as agriculture, fruit and vegetable processing, handicrafts and humanitarian work, a significant number of retired women dared to finally start painting, some learned for the first time how to make jewelry.
Jela Stanišić Vitomir, a retired educator and member of the Association "Wake up", decided to dedicate herself to sewing in her retirement days.
The hobby, for which she did not have as much time as she was employed, blossomed in these days, and her hand-sewn folk costumes of Šumadija ended up at an exhibition in Moscow.
Mičić started this Association with the idea of gathering in one place the women of East Sarajevo, especially those who are retired or who have spent their working lives as housewives, without formal paid work.
Through the recently held gathering in the city park "Gavrilo Princip", in the ninth month of 2022, the members of the Association presented what they enjoy the most: from cooking, homemade honey, brandy, liqueurs, to handicrafts, knitted sweaters, socks.
Crocheting, wool felting, embroidery, weaving are all, as you can often hear, dying crafts.
The members of the Association, however, do not let such skills be forgotten, which they proudly spoke about to the gathered fellow citizens. As they say, they are happy that many young people want to learn more about these skills.
As Slavojka Marković, one of the members of the "Wake up" Association, said in a statement to the media, she learned crocheting, spinning wool, and knitting in her childhood.
She learned some new hobbies, such as decoupage, that is, the technique of painting objects with paper, precisely in the Association.
"I'm curious, I like to learn new things. Mostly, we socialize in the Association, we work. Members rarely do just one thing, but we try several different things," said Marković to the media in East Sarajevo, September 4, 2022.
The idea of the "Wake up" Association is to create a community that will enrich the city of East Sarajevo with its ecological, agricultural and tourist offer, while also influencing employment, primarily of women.
The event "Summer in East New Sarajevo", the Assembly in Vojkovići, an exhibition of handicrafts in the city park, socializing with female artists, the Healthy food, domestic products and handicrafts fair, and the selection for the most beautiful yard, balcony and area of the community of apartment owners, are just a few from the recent activities on which the members of the Association worked.
Mičić says that, by profession, she is an educator, that she is also a parent, and that through these two roles, she learned that passing on knowledge and ideas and guiding them on the right path is the foundation of the survival of new generations, and our future depends on their results.
In this, she says, one must be persistent and consistent.
"I am just proud that in these 9 years I have succeeded in all this and in many aspects helped to raise awareness in our community, especially in the field of gender equality, ecology, activism and charity. With our establishment and successes, we have shown that "Nothing is impossible, you just have to want and work" (which is also the motto of our Association), we have encouraged thinking and activism and many associations have been founded", Mičić does not hide her pride when she talks about her favorite work.
"We also raised awareness about the importance of agriculture. Numerous other ideas were an incentive for some other associations, even local authorities, to act and realize those ideas. I could include the organization of various fairs with contents that we were the first to introduce, the distribution of humanitarian packages, the creation of houses and stands for sale, street sales and the like," she adds.
Through all these manifestations, women who are mostly invisible to the wider community of the city, managed to build recognition and give their city activities that, in this form, did not exist until then.
In May of this year, East Sarajevo hosted a mini Fair of handicrafts, domestic products and art called "Together we are stronger" organized by 20 associations from all over Bosnia and Herzegovina.
"The mini fair is the end of two projects. First, the project we worked on, titled "Women's hardworking hands against poverty", helped to organize seven courses in embroidery, knitting, felting, weaving, sewing, decoupage and foil processing, in which 45 women participated, and the second project relates to the networking of women from both entities in Bosnia and Herzegovina," Mičić explains.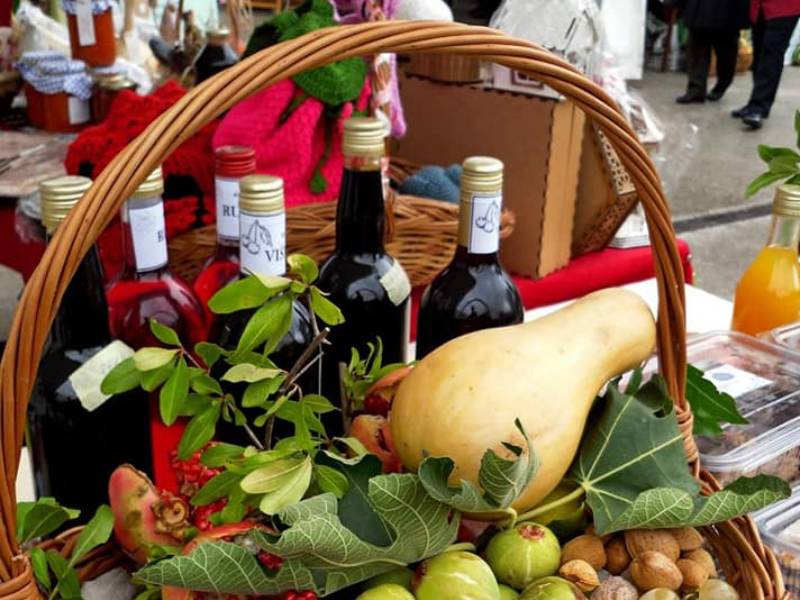 Through all these activities, Mičić and the women she gathers around her strive to make their time and life better. What started as an idea of acquaintances from the neighborhood grew into a formal Association, which invites other women to follow their example with every activity.
Regarding which part of the activity she is most proud of, Mičić says that it is almost impossible to single out just one example because, as she says, before every success, a lot of obstacles and difficulties have been overcome.
"That's why I will mention three things that make me happy and proud: Pumpkin Days event, which is being held for the ninth time, and our Association was a pioneer in organizing such events in our community. Also, through our persistence, we managed to connect our local community with other actors for the IFAD project in agriculture, which resulted in the allocation of 11 greenhouses and we built and managed to maintain an outdoor gym and a beach volleyball court," she says.
In the end, Mičić points out that this Association does not have formal cooperation with the institutions of the City of East Sarajevo, but emphasizes the support that the Association managed to get.
"The fellow citizens react positively to all our activities and support us. The media as well, and the authorities. We do not have formal forms of cooperation with the authorities, but cooperation takes place well through meetings and exchange of correspondence. We mostly cooperate with the Istocna Ilidža Municipality, which supports us the most, both morally and through finances (projects and help in organizing the event) and logistical support. We get the same kind of help from the Istočno Novo Sarajevo Municipality, and due to the way of administrative organization, we get the least support, but not less significant, from the City of East Sarajevo," concludes Mičić.