– I stayed in the hospital for 15 days. Nobody even looked at me until my husband came and gave the envelope with money to the doctor. The very next morning the doctor decided to pay attention to me and help me with my childbirth, – this is just one of the many experiences of mothers in labor in Bosnia and Herzegovina collected by the Association Baby Steps from Sarajevo.
Thanks to them, stories about corruption and bad, often inhumane treatment of women giving birth in hospitals in Bosnia and Herzegovina suddenly took over the media space. Testimonies of more than 2,500 women who sometimes had to fight for their own life and the life of their baby also reached Brussels. In the Report on Bosnia and Herzegovina, the European Union clearly stated that the situation in maternity hospitals must be improved and set it as one of the preconditions that the country must meet if it wants to become a member of the EU.
The results of the research implemented within the project "Fight against corruption in maternity hospitals" showed that 50 percent of women giving birth and members of their families gave money or a gift, before or after giving birth. On average, doctors and medical staff received 140 BAM. If you multiply that by about 30,000 births, which we have in Bosnia and Herzegovina, it means that more than 2 million BAM is allocated annually for "giving gifts", that is, bribes in maternity hospitals in Bosnia and Herzegovina! The Association also published 12 video testimonies of women giving birth that shocked the public.
Behind the research is a small team of Association members, led by president Amila Tatarević. The Coalition for the Protection of Whistleblowers in Southeast Europe recognized how important their and her fight for a dignified childbirth is. At the beginning of the year, Amila was awarded an Award for freedom of speech, courage and presentation of socially important information of public interest.
Amila is a brave woman, who left a safe job in the civil service to devote herself to the fight for the rights of women, mothers. Talking to her, you won't regret it for a moment, because she knows she's doing the right thing.
– I see a really big change compared to what was at the beginning. It will take time, what will be most difficult is to change the perception. This is our need for "giving gifts", not only for women in labor and their family members, but also for medical staff. They are the ones who have to refuse an envelope with money or a gift – says Amila for Local Works.
We all know about corruption in healthcare. There are few people who did not have a family member, friend or acquaintance who was not asked for money for a surgery or asked for a "favor" for a medical examination. However, there is almost no prosecution of such cases. That is why the main goal of the campaign is to motivate women to report corruption. Another important task is to break the wall of silence among doctors who do their work honorably and honestly.
– The biggest problem in healthcare in general is solidarity, doctors protect each other. Often those who are not corrupt are the most vocal to protect those who are. They believe that this is how they protect the reputation of the profession. That has to change. We cannot have a good system until the doctors themselves report those who ruin the reputation of their profession – Amila points out.
At the beginning of the campaign, two hospitals were chosen with the staff of which, through education, they would work on raising awareness of the importance of eradicating corruption. "Abdulah Nakaš" General Hospital in Sarajevo is the best and UKC RS from Banja Luka is the maternity hospital with the highest degree of corruption – as much as 65 percent. However, the Banja Luka maternity hospital is the best example of positive changes.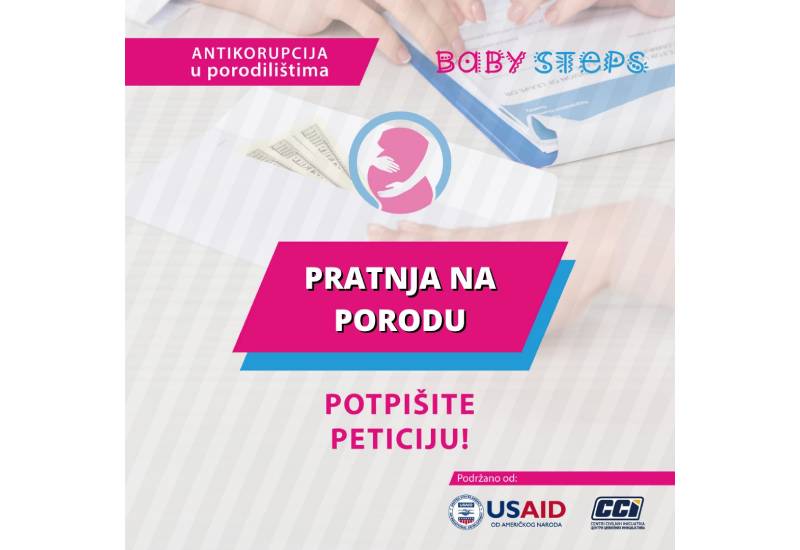 – The head of gynecology in Banja Luka fascinated me as a doctor who wants to prevent all forms of illegal behavior. She believes that something can always be improved and recognizes world recommendations. Their doctors were the first to attend trainings on corruption. For us, they are the leaders of change, because they have shown that they want the well-being of patients and think about them – Amila points out.
At the beginning of March, an application was published through which mothers will be able to anonymously evaluate the quality of services and report corruption in maternity hospitals. Along with the discharge letter, they will receive a QR code through which they will be able to access the application and thus share their experience. Mothers will be able to do this even six months after giving birth.
– For now, there are three maternity hospitals in the system, Banja Luka, Tuzla and Bijeljina, but our goal is to include all maternity hospitals in Bosnia and Herzegovina. We will offer it to all hospitals. Even those who do not want to be included, women will have the opportunity to leave their evaluations, but the hospitals will not see those results – explains Amila.
COOPERATION WITH THE PROSECUTOR'S OFFICE
What is particularly encouraging and shows that things are moving forward with small but sure steps is the cooperation with the prosecutor's offices. Prosecutors can initiate investigations even without filing a report, if they find that a doctor's name is frequently mentioned.
– The most positive thing in the whole project was when they invited us from the Cantonal Prosecutor's Office in Sarajevo to offer cooperation. Our goal is to collect information through the application and pass it on to prosecutors. That is why it is important for women to share their experiences and report corruption, because that is the only way prosecutors can react – emphasizes Amila.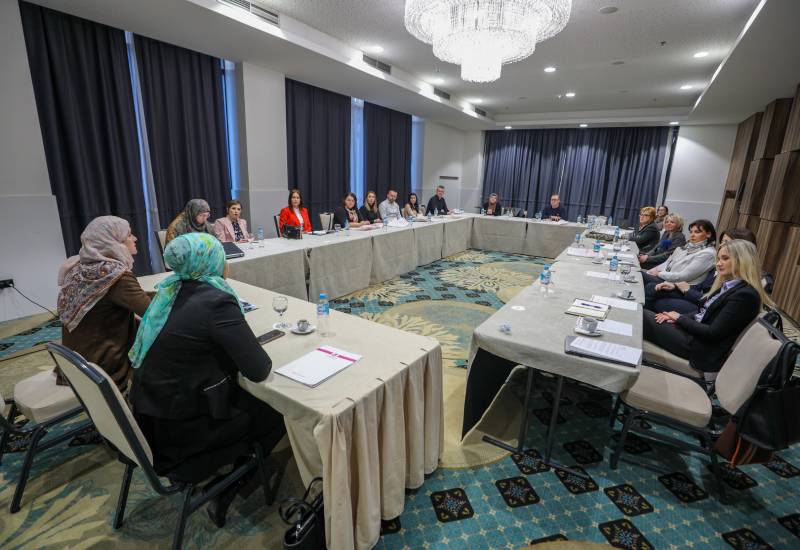 Amila's goal is to help mothers in labor at the most important moment of their lives. That's why the Association launched an initiative to enable every woman in labor to be accompanied while she is in the hospital, and not only at the time of delivery. This is important for two reasons. World experience has shown that accompanying has a positive effect on the mother, but it is equally important that it is the first anti-corruption mechanism.
– In our country, women in labor are often shouted at, accused of not being cooperative, not getting the care they need. No one will misbehave with them, if someone else is there with her, especially the husband. On the other hand, it will not be so easy to ask for money. Because while the woman in labor is alone in the hospital, and the family does not have any information about her condition, it is much easier to treat her badly and ask for a bribe – says Amila.
We have not developed a culture of attending childbirth. Many men do not even want to. However, the accompanying person can be anyone. A sister, a friend, a mother… The initiative has been sent to the Federal Ministry of Health, which will form a working group and make recommendations for its implementation through communication with maternity hospitals. The final decision is made by the hospitals.
-Many hospitals do not have the infrastructure for this, but with good will this can be changed. The hospital in Banja Luka has already provided accompanying women in labor according to their wishes and has once again shown that it is a pioneer of positive changes and that it sets standards – says Amila.
MOTHER FRIENDLY HOSPITAL
The Association and Amila have another big goal. Open a Parenting Center where women will receive the support they need. Quite often, women go through postpartum depression after giving birth and do not tell anyone about it. Many women lose their babies before giving birth. Many couples have problems with infertility. These are all stressful and sometimes traumatic experiences. That is why it is planned to start support groups through which women could share their experiences. The plan is to include men as well, because childbirth and parenting problems are not only women's problems, although it is a general opinion in our country. It is important that men also understand their role.
-A positive change has begun that can be seen, especially in the last six months. Things are slowly getting better, finally the voice of the woman in labor is heard. Now we have a system in which their opinion is heard, to point out problems and to fix something. Both positive and negative experiences should be shared – says Amila.
The next step is research on obstetric violence, which is preparation for the beginning of the mother friendly certification process. Many hospitals in Bosnia and Herzegovina have the Baby Friendly Hospital certificate, and the next instance is the Mother Friendly Hospital. That is the best way to solve the problem we have now in maternity hospitals. Obtaining that certificate will also mean better conditions in the maternity wards, a better attitude of the medical staff towards the women in labor, and the possibility of escorting.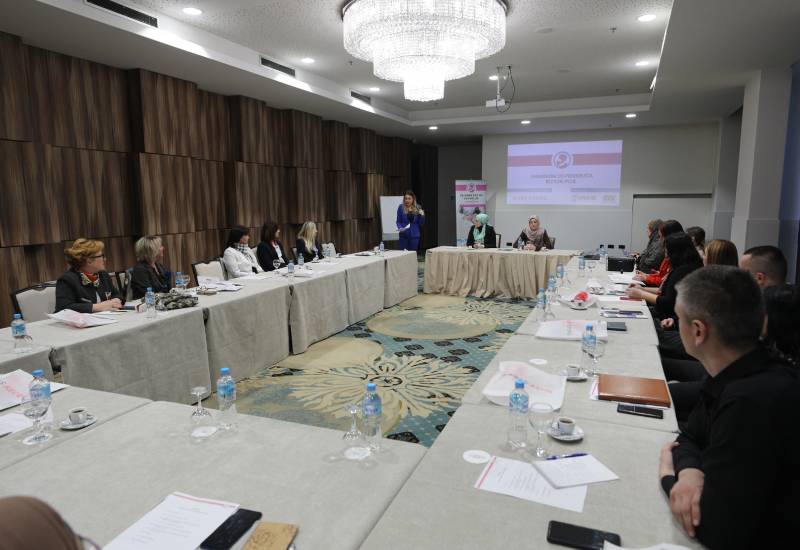 – That is our goal, for hospitals to become mothers' friends. With that certificate, doctors will know exactly which practices and procedures to use. If we have hospitals that will be friends of mothers, we will have a dignified birth. We are aware that this struggle will last a year, but the situation in the maternity hospitals must change from the ground up – said Amila at the end of our conversation.
Author: Vedada Sećerbajtarević