January nights could become at least a little bit warmer for the 160 migrants who live in the open air in Tuzla.
By: Mirna Stanković – Luković for interview.ba
This is the work of ten associations of women, individuals, companies and citizens of Gračanica who wholeheartedly supported the idea of ​​their fellow citizen Nihada Okanović to make sleeping bags for people on the move.
– We were especially moved by the fact that we saw what was happening in Bihać. In Tuzla, we have between 150 and 200 migrants who gather around the bus station and who live outdoors. Nobody cares about them. So, we decided to try to help them with sleeping bags, although we don't know how much it will help them. We started with an honest purpose and we work from the heart, says Nihada Okanović for Interview.
– That's the most beautiful thing I've ever heard anyone do. These women have organized humanitarian actions before, but this is the most beautiful thing I have heard that someone has done for migrants. The women gathered, set aside their time and did it for them. They need it so much that, if they make only three bags, it is a great help, says Tuzla activist Dženeta Delić-Sadiković.
She says sleeping bags are what migrants look for throughout the year.
– They need it in summer and winter, 365 days in a year. When you ask them what they need, they will immediately tell you a sleeping bag, even before the food, because on the way someone will buy them a muffin or something, and no one will give them the bag, says Delić-Sadiković and adds that migrants, when choosing between blankets and bags, they will choose the bag again, because the blankets are heavy and they leak.
– They need a sleeping bag the most, but also the hardest to get because they are not cheap either. One bag costs about 30 or 35 BAM, says the Tuzla activist.
With the support of a local company that trades in textiles and sewing materials, women from Gračanica managed to make warm sleeping bags whose price per piece does not exceed 18 BAM. The money is collected from donations from citizens and covers only the cost of materials. All the women involved in making the bags work for free.
Hana Kapetanović, president of the Association "Tragom tradicije" from Pribava, whose members did most of the work, says for our portal that the idea started from bags made of insulation that is placed under the laminate. However, when they made those bags, they saw that they were not appropriate ones for the people on the move.
– We wanted it to be better, better and more durable. With our bag, they will not be able to lie in the snow, but somewhere dry and it will warm them. The insulation bag is waterproof, but it tears easily, says Kapetanović.
– We started with this idea because it seems to me that everyone gave up on them. I call them children, because most of them can be my children because of their age, and it is rare for a woman and a mother to watch someone's child outside and do nothing, says Kapetanović.
When they realized that they still needed better quality material for the bags, Hana Kapetanović went to Mustafa Šabić, the owner of a company that sells textiles, to see if they have adequate material.
– They offered us a price that is three times lower than their retail price. In the beginning, they helped us, and gave us the material without paying for it, so that we could start making the bags as soon as possible. We later published the humanitarian action call on Facebook, so that the people could help cover the costs of the material with their donations, says Kapetanović.
The costs are mostly covered, but according to Nihada Okanović, who initiated this action, there is still about 800 BAM of debt left to the company that provided the material for the bags.
– Recently, another company contacted us, which is willing to donate fur with which we line our bags. Donations are constantly arriving, so we hope to settle that debt soon. The owner of the textile company gave us fur at a price of six marks per meter, and for one bag it takes about 1.90 meters, says Okanović.
The bags, which were made by women from Gračanica, will be distributed by volunteers of the International Emmaus Solidarity Forum, who provide one meal every day to people on the move in the Tuzla Canton. This time, they will get a much-needed sleeping bag with the meal.
– There's nothing worse than someone is asking for a bag, and you know how much he/she needs it." The bags are warmer than the blankets. When I have to say I don't have a bag, it's harder for me than when I don't have food. They will find food for two, three, five marks, they will not die of hunger. The bags are really the most necessary on their journey, even to the people who are placed in the camps, says activist Dženeta Delić Sadiković.
According to Nihada Okanović, associations in Gračanica have been trying for some time to give their contribution, to help in any way. Last year, they distributed hygiene packages, and the women also prepared food that was distributed by Emmaus. Yet some seem to doubt their intentions.
– We were afraid of public condemnation when we started this story. All kinds of information reach us, from people being afraid that someone will charge for it all. We really entered this project with our hearts, voluntarily, just to help those children as much as we can, says the president of the Association "Tragom tradicije", Hana Kapetanović.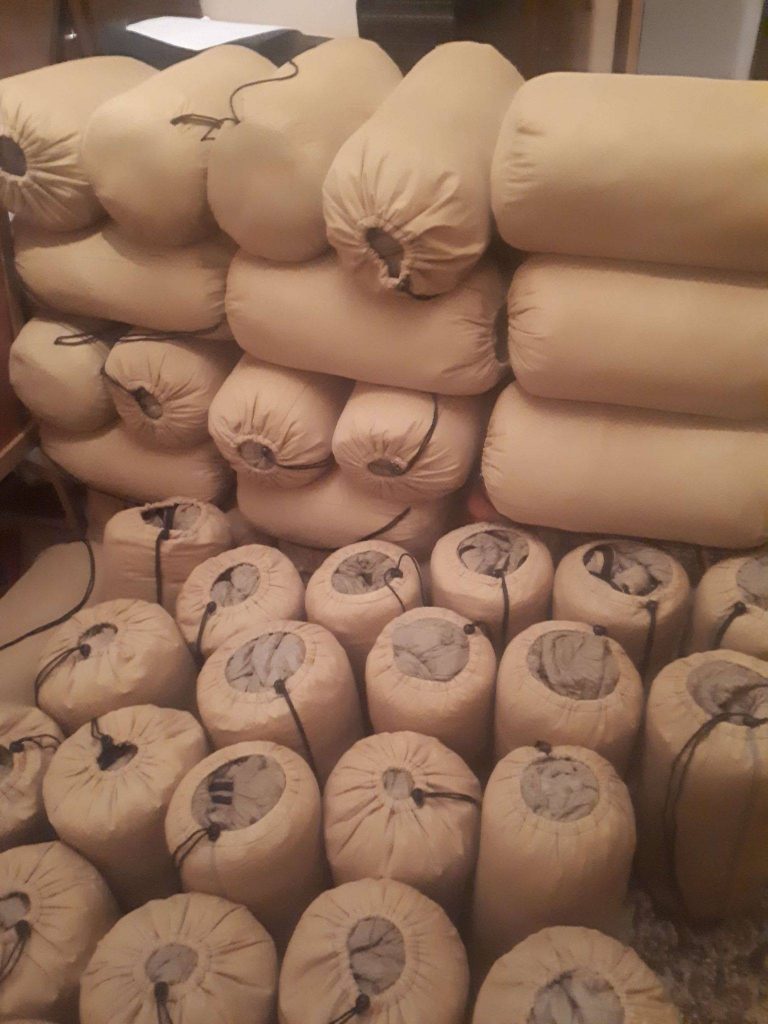 Despite the doubts and negative comments of individuals, the women from Gračanica did not hesitate.
– I am glad that these women came to the fore, that it can be seen that these associations have a function, to work, they have the will and desire to help, says Nihada Okanović.
– I would like other associations to join, to be inspired by our women. It may be symbolic, but it is our way of contributing, she adds.
The exact number of people on the move living in the Tuzla Canton is not known, and Dženeta Delić – Sadiković emphasizes that the statistical data to which we all have access are unverified and unreliable.
– It is difficult to say how many migrants there are in Tuzla Canton, because that number changes every day. Yesterday, some came from Serbia, some returned from Velika Kladuša… Only in Tuzla there are about 200 of them, in Gradačac about 50, in Srebrenik about 70, but that is constantly changing, says Delić-Sadiković.
The number of migrants in Tuzla Canton is incomparably smaller than in Krajina and Bihać, but according to activist Delić-Sadiković, the situation with accommodation is identical. Most of them are on the street, in abandoned houses, factories, train wagons… The issue of their accommodation has not been resolved at all. In Tuzla there is a day center for people on the move where they can get a meal, take a shower and warm up, but that's all they have at their disposal.