Numerous women's associations are active in the area of the Una-Sana Canton, which contribute to their communities through various activities, primarily through the preservation and promotion of the culture and traditions of the people from Krajina.
They were created mainly in rural areas, during spontaneous and everyday gatherings, in Krajina.
It was during such gatherings that the idea of joint involvement of women in the Veliko Kladuša Local Community of Crvarevac was born. It was, according to Senajda Mašinović, president of the Association "Đul", exactly ten years ago.
"In 2013, we used to occasionally hang out over coffee and cakes and talk about everyday topics. During one of those gatherings, we came up with the idea of organizing ourselves in the form of an association or women's association. There were about 15 of us, and we started to occasionally implement certain activities and actions in Crvarevac. Many other women soon responded to those actions, and in 2015 we registered the Association "Đul" Crvarevac."
Immediately after registration, the adoption of regulations and plans, the hardworking members continue with numerous activities, and as a priority they point out the establishment of a cultural and artistic society within the Association, in order to preserve from oblivion everything related to the life and customs of this region.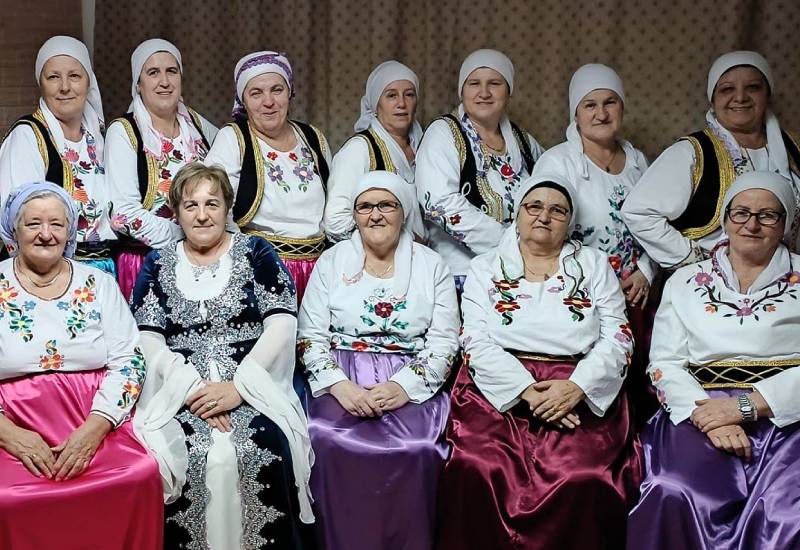 "Shortly after starting the sections, we introduced ourselves to the residents of Crvarevac, given that we were known for organizing humanitarian actions even before that, we received the support of the residents, the local community, and our diaspora. This helped us to organize the Folklore Evening, an event in which ten cultural societies from the Una-Sana canton participated. Until today, and when it comes to cultural and artistic sections, we have presented ourselves to the public in several cities of Bosnia and Herzegovina, the region, Turkey and Austria, where we participated in the "Bosniak Festival" manifestation," says President Mašinović.
Choir soloist Zemka Mašinović says she is happy to be a member of the Association and to be able to perform original songs.
"The choir has performed in many cities. We perform traditional songs, these are texts that our elders sang long ago, and we learned them in childhood. By performing these songs, we want to save them from extinction and oblivion".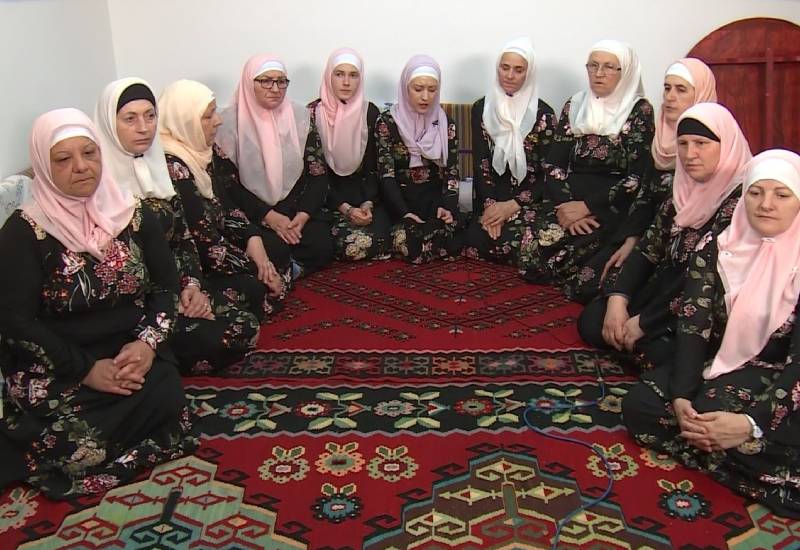 Women from Crvarevac, devoted to the preservation of handwork, make numerous unique clothing and decorative items during socializing. The most active among them, Derviša Čordić, fondly remembers the days when she embroidered, knitted, crocheted together with her mother, so that when the time came, she would have the most beautiful clothes.
"At that time, the bride had to have a needle and thread in her dress, in addition to the already prepared handwork, in order to continue working when she got married. That's how I continued, and today I still do handicrafts, mostly ceramics now, because that's what's most in demand. I have passed on my knowledge to many younger women, I am always ready to teach them, if they want it. Many visitors to the events we participated in had the opportunity to see the handicrafts of the members of our Association, and many people are asking to buy them," Derviša told us.
Association "Đul" is especially known to the Bosnian public for the preparation of traditional Krajina specialties. President Mašinović points out, the members of the jury at the Tourism Fair "List" in Lukavac gave them courage and support, awarding them the first prize for the best gastronomic offer.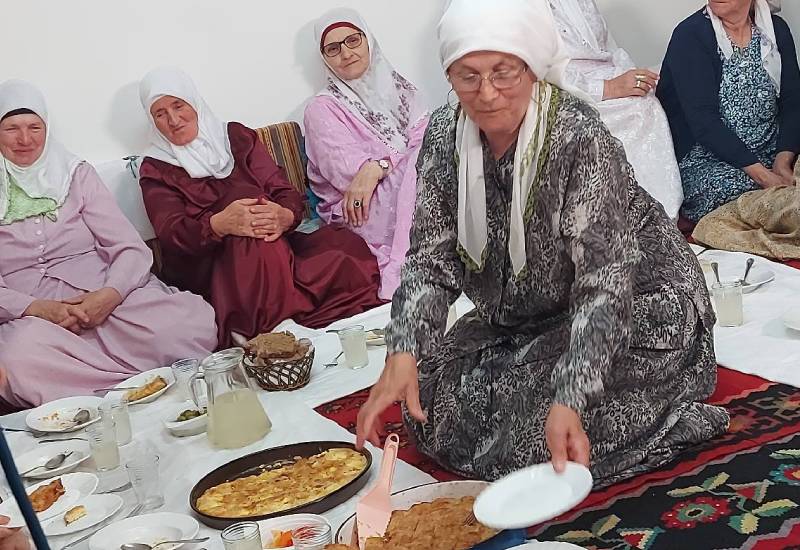 "They suggested us to keep the traditional recipes in written form and to consolidate them into one book. We immediately accepted this idea, worked out a plan on how to put it into practice, but despite numerous requests, we did not manage to get financial support from the authorities. Thanks to our food preparation actions for migrants, we are in contact with the IOM, and the organization BHRI enthusiastically accepts to be a donor of the "Krajiška sofra" project. A book of the same name on traditional Krajina specialties was published within the project. The work was extensive, in the implementation we included 10 associations from the area of the Una-Sana Canton, so that the book would be filled with as many different recipes as possible".
After the publication of the book "Krajiška sofra" there were promotions in the cities of Una-Sana Canton and free tasting of specialties. Bosnians living in Istanbul also had the opportunity to taste the specialties during the visit of women from Crvarevac.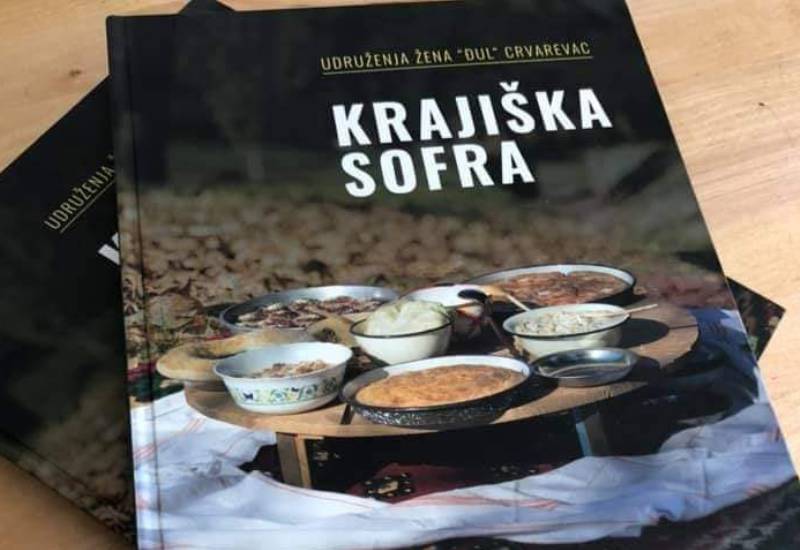 After that, the Una-Sana Canton Ministry of Economy supported the implementation of the "Practical Application" project, during which, through interesting workshops, primary and secondary school students learned to prepare numerous Krajina specialties.
In addition to this, the members showed their culinary skills to the public on TV screen. They prepared the TV series "Sweet Bites from the Bosnian Kitchen" for RTVUSK, and with the series "Ramadan Kitchen" they helped viewers of TVUSK and TV HAYAT to more easily plan iftar preparation.
Much more could be said about Krajina cuisine, says Senajda Mašinović, but other activities should also be mentioned because, the scope of their activity has been extended to other spheres of life over the course of eight years.
"In cooperation with the Mountaineering Society, we organize a "Summer Camp for Children" every year. Children, spending several days in nature, learn different skills, find their way in the natural environment and, what is very important, become environmentally aware. Every year, the Association also organizes the event "Autumn Fair", where women from all parts of USK have the opportunity to display and sell their homemade products, and in this way, we promote the purchase of homemade, healthy food and quality nutrition."
By organizing expert lectures, they managed to encourage women to discuss topics that, according to President Mašinović, were unknown to women from rural areas until now. Experiences are exchanged, preventive measures are taken in case of violence, and psychological support is provided.
They are extremely satisfied with all the listed, as well as other realized activities and achieved successes, cooperation with numerous associations throughout Bosnia and Herzegovina, as well as the support of the locals and the diaspora.
From the ruling structures, they are regularly supported by the Una-Sana Canton Government in the implementation of projects and other activities. However, throughout all this time they have lacked the support of the Velika Kladuša Municipality. This attitude of the Municipality, Mašinović proudly points out, was overcome by the fact that women from this region, where the consequences of war events are still felt, are united and act together.
"As an organization with an exclusively female population, we managed to overcome the consequences of the war, the division between brothers, which is the strongest wound of our area. We have united regardless of our religious, political or any other affiliation and beliefs. In this environment it is a huge success".
In the coming period, as they point out, they will continue with the current, but also new activities. Their wish is to finally get their own space for the Association, so that they can act and contribute to their local community as well as possible, where, unlike many other rural areas, there is still a will to develop and improve life.
Members of the Association "Druženje žena Brekovice" marked the tenth anniversary of their successful work
At a distance of about 50 kilometers from Crvarevac, another group of hardworking women gathered, quite spontaneously. They are members of the Association "Druženje žena Brekovica" from the Brekovica local community in Bihać, which marked its tenth anniversary last year.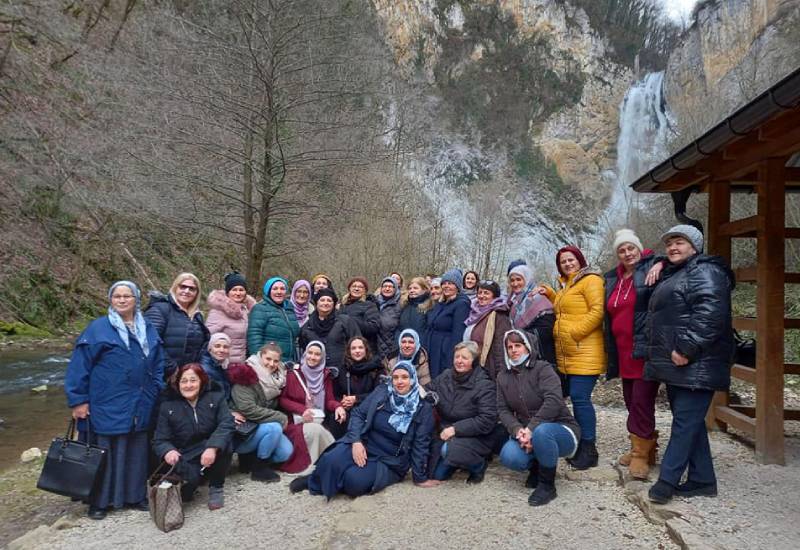 During that period, according to president Nevzeta Bajrić, a lot happened, from those difficult initial struggles, related to finding a space to work, starting numerous activities to numerous recognitions and successes.
"The beginning of our activities was very difficult, we only got a small space in a devastated school building, which we arranged independently. The Bihać Municipality provided us with financial support in order to arrange and equip the interior of that devastated area. We also understood local businesses, who also helped us with the works, but still we had to do most of the work independently. Thus, members of the Association also performed construction work, painted doors, etc., but we had our goal and nothing was difficult for us".
And the main goal, adds Nevzeta, was for women from rural areas, mostly housewives, to get out of the house, to get involved in other activities in addition to their daily duties, to gain new experiences, friendships and to contribute to the community in which they live.
"Our Association, soon after its establishment, became a favorite meeting place for women from Brekovica. We have gathered local women from 18 to 74 years old, over 240 members have participated at different activities at Association, and currently 60 of them are active. We operate in several directions, from nurturing, traditions and customs of this region, organizing humanitarian actions for elderly and sick people, collecting aid for the Red Cross and Merhamet, activities related to raising and developing citizens' awareness of the rights and empowerment of women from rural areas, various educations, symposia, seminars, publication of manuals to the initiation of projects that benefit all residents of this local community. I would like to mention the project "Library in new clothes", which we realized together with Elementary School "Brekovica". I would especially single out the construction of children's playground for the youngest residents. We financed the construction independently, with minimal support from the City of Bihać, with funds earned through the preparation and sale of 6,000 packages of noodles."
There are also other activities related to the development and improvement of the quality of life in the Ministry of Health, in which the members of the Association participated independently or with the support of the City of Bihać and donors, such as the Rotary Club from Munich, TIKA from Turkey, UNDP. During the work, they also contributed to the construction of the new Cultural Center in Brekovica, which was financed by the City of Bihać, and which today houses the Association's modernly equipped premises.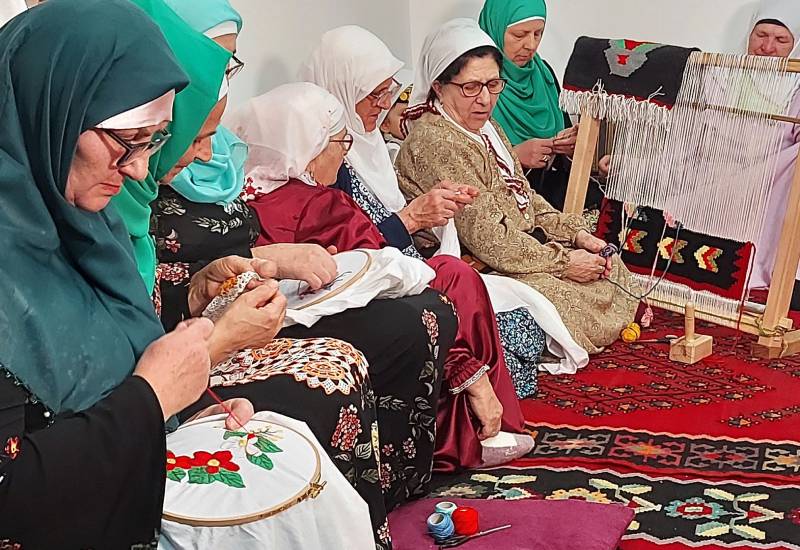 Women from Brekovica are particularly proud of their contribution to preserving the culture and customs of this region, with an emphasis on promoting traditional Bosnian food.
One of the skillful cooks is Senada Majstorović, who, as she says, first got used to the Association by her desire to contact other local women of Brekovica, and then to contribute to the community in which she lives with her work.
"I like to cook, so I participate in all the actions of preparing food for the vulnerable, sick or families who are burying their loved ones. I feel the best when I know that we have helped others, it fulfills me and the other members, we are truly humane. In addition, I follow other activities organized by the president and the younger women. We travel together, meet women from other places and I am really happy that this Association exists. My house is 3, 4 kilometers away from the other members. However, it was never, and even now that I'm a bit older, difficult to walk to meetings, gatherings or other activities".
Like their friends from Crvarevac, they also introduced the viewers of BH TV stations, including RTV USK, TV HAYAT, OBN, TV TK and others, to the preparation of top-quality local specialties.
Numerous presentations of local cuisine opened up the possibility of starting another activity in the Association, which, as the president states, benefits both the members and the local people engaged in agricultural production.
"It's about catering, which we do at the request of the residents of Brekovica and the surrounding settlements, for different occasions. To prepare food, we buy local products from our members and locals, and considering that this is an agricultural area, the selection of food, from pasta, eggs, dairy products to meat, is really large. In this way, we enable the locals to sell their products and make money, and we offer food that is really fresh, high-quality and tasty. We leave part of the money from the catering for the needs of the Association, use part for trips and humanitarian activities, and share part with the members who participated in the food preparation. We believe that this is a good way to promote local food, fresh products, but also a way to help our farmers. Interest in our service is great not only in Brekovica and Bihać, but also in the surrounding areas."
In addition to local specialties, citizens, but also visitors, also highly appreciate the handicrafts created in the creative workshop, which, one might say, is a kind of museum of Bosnian traditions and customs. In addition to decorative items, such as tablecloths, purses, decorative pillows, etc. in this workshop, handmade folk costumes are created, necessary for the folklore section, which includes members from 6 to 65 years of age.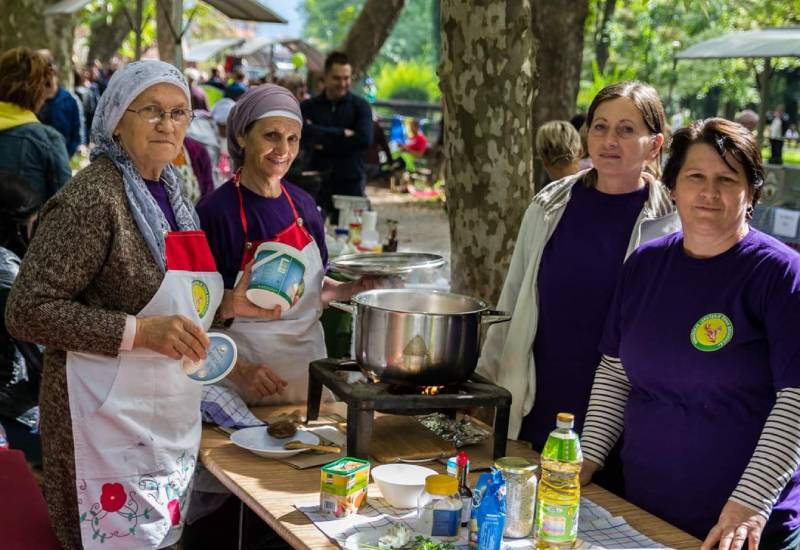 Each costume, from the preparation of materials, tailoring, to the final decoration with embroidery, goes through the hands of numerous members. Each of them, as Asima Bejtić told us, puts her stamp on that costume with her skill.
"My job, when it comes to this workshop, is to decorate costumes with embroidery, in a traditional way. Some members sew costumes, some cut scarves, so that each has, in accordance with her knowledge, a part of the work. In addition to the workshop, I participate in other activities, socialize, travel with members, and this Association is an indispensable part of my life. And when one of us has some stress, problems, as soon as she comes to socialize, it will be easier for her, because the atmosphere between us is such that everyone enjoys these activities."
Guests who visit the Association are shown an unusual carpet made of 5,000 plastic corks.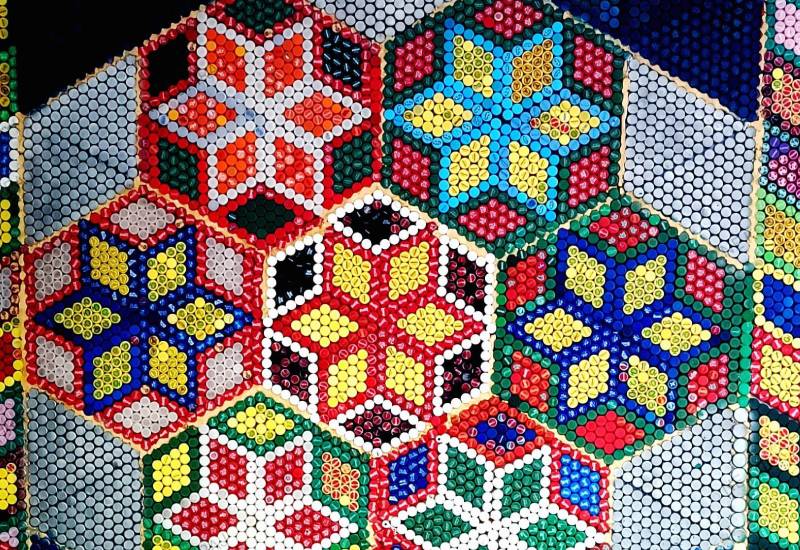 "They collected corks for a long time in order to contribute to the preservation of nature, which is also one of the areas of our activity. In the same way, that is, from corks, we made a BiH flag, and we sewed one, measuring 8×4 meters, in our workshop for the needs of the House of Culture", says Nevzeta, showing us pictures of carpets and flags.
The works, created in the workshop, were noticed at numerous gatherings, exhibitions, fairs and reviews in BiH cities, Slovenia, Austria, Croatia, Turkey. During these reviews and manifestations, the members, as they say, became richer for new experiences, new acquaintances were made, and the way for further cooperation was opened.
President Bajrić points out, there will be cooperation this year as well, just like new activities, which are included in the Work Plan and Program for 2023. Together, they believe that the new ones, like all the previous ones, will be well received and that their work will continue to contribute to the local community where they live.