While waiting for the beginning of the second academic year, 22-year-old Azer Ćatović spends his summer vacation jogging, reading books and walking. He still has a lot of studying and exams ahead of him at the Faculty of Pedagogy in Sarajevo, department of Education and Rehabilitation. He usually jogs on a treadmill at the gym of the Center for Blind and Visually Impaired Children and Youth in Sarajevo, where he graduated primary and secondary school and has been living in a boarding school since 2006.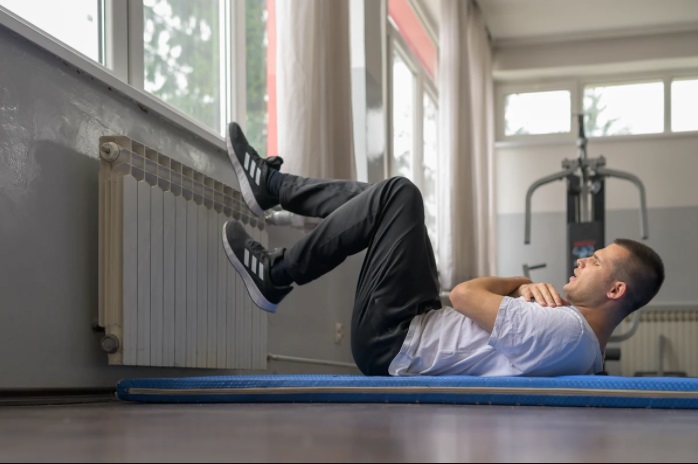 EDUCATION AND LEARNING OF ORIENTATION AND MOBILITY
Before he started primary school, Azer was able to move well even when, as a little boy, he didn't even know he was blind. Born in Mostar, he has lived in Sarajevo for 14 years. In addition to his student obligations and training, he is also a member of the orchestra of the Center for Blind and Visually Impaired Children and Youth, where he plays guitar and goblet drum. Azer learned how to be completely independent in this elementary and secondary school, so until the beginning of the pandemic he regularly attended university lectures.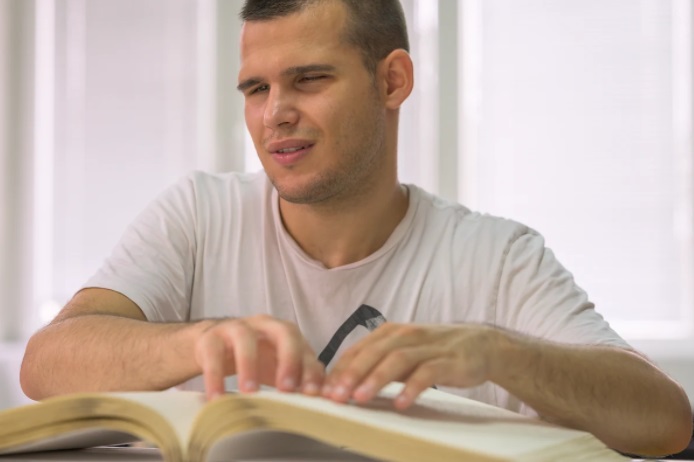 "If I went back to the past now, I wouldn't change anything, nothing at all," says Azer, recalling that from the first grade of elementary school he learned orientation and mobility, and developed other senses as well. "Professor Azur taught me how to move around, we went around the school first with a walking cane, he showed me the techniques of using a walking cane, how to hold it when I'm standing, when I'm waiting for someone, or how to hold it when I climb stairs."
IMPROVEMENT OF LIVING CONDITIONS IN THE CENTER
Azur Kuduzović, a long-time professor of orientation and movement of blind people and the current director of the Center, is today, among other things, dedicated on improving living conditions and improving facilities of primary, boarding, and the high school center in Ramiza Salčina Street in Nedžarići neighborhood in Sarajevo.
In the last couple of years, many improvements were made on the buildings of elementary and secondary school and the boarding school. In the last six months, additional energy efficiency improvements were made.
"We had leaks in the hallway and in few rooms. These are the basic living conditions, having rooms and classrooms without leaks ", says Kuduzović.
He points out that repairing the roof, replacement of windows and installation of thermostats on the radiators, in addition to ensuring good living conditions, led to financial savings due to reduced energy consumption and thus less pollution. In addition, 16 solar panels were installed and the water heater was replaced at the primary and boarding schools, with the support of the project "Green Economic Development" implemented by the UNDP and the Ministry of Physical Planning, Construction and Environmental Protection of Sarajevo Canton, and the Government of Sweden. Now, the school has 2000 liters of hot water for children who use the facility, but also for kitchen, laundry and for children using accommodation.
Kasim Dizdarević, an employee of the Center who, among other things, makes sure that everything works for the students: heating, electricity and hot water, told us more about the savings, but also about the practical improvements. He explains that in addition to heating with solar energy, they now have enough hot water, so that during the lunch time, they can do laundry, kitchen has hot water as well, and all children can wash their hands.
"It is important to reduce the consumption of electricity and the use of energy sources that pollute our environment," said Dizdarević. Additionally, as part of the same project, preparations for the construction of a hot water pipeline and the transition to a city heating system are underway, which will reduce the use of gas that is now used for heating in winter.
Within the same project, the entrance door of the elementary school was replaced, as well as the thermal insulation of the attic and the roof. Now, the building is energy efficient.
Kuduzović says that teaching and extracurricular activities with students include teaching about energy efficiency and emphasizing the importance of environmental protection, for example using recycling bins, landscaping, which helps them to get to know nature through sounds and touch.
ENVIRONMENTALLY FRIENDLY INSTITUTION
Classes at the Center for Blind and Visually Impaired Children and Youth are held according to the regular curriculum in the Sarajevo Canton, and students are coming from all parts of BiH, many of whom stay in boarding school. In addition to regular classes, they have all-day support in learning and other skills such as mobility, self-care, vision exercises for the visually impaired, use of aids, games, going out and attending events. In high school, students are educated to become physiotherapists, telephone operators, business secretaries, and skills of product packaging. In addition to that, there are several extracurricular activities such as drama, IT, debate team and environment and ecology.
Biology teacher and head of the environment and ecology section Sonja Ivanišin says that students are interested in preserving the environment, which is why they often participate in cleaning of the park located within the primary and boarding school premises, which is adapted for blind and partially sighted children.
"We have plants/flowers with strong smell, and trees whose bark students can recognize by touch. Also, we have roses, so we also make rose juice. Several activities have been organized: cleaning of the park, planting, pulling weeds, arranging branches, raking leaves. Students like to collect leaves because we transport the leaves to the composting site", says the teacher who has been teaching at this school for 24 years.
Azer enjoys nature and learns something new every day.
"With aids, it is possible to live as if you have no disability," he says, adding that one day he would like to run a half marathon.
The building in which he lives is surrounded by streets where sound traffic signals have been installed, and he hopes that soon a sound traffic light will be installed at the tram station near the student dormitories in Nedžarići, where he will go to college again as soon as the lectures start again.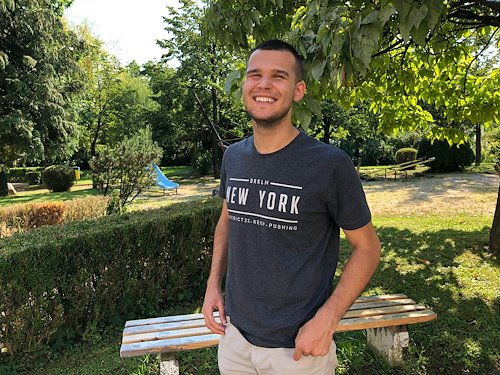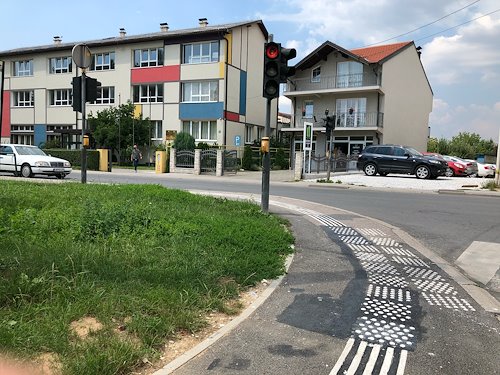 Source: https://www.ba.undp.org/content/bosnia_and_herzegovina/bs/home/presscenter/vijesti/2020/GED_CentarSJJ.html?fbclid=IwAR2OdwEF_VQs4DWPGy3je8cF7BfCUfJQ4maCJjNxKVFQl7nCFPrVTvIkty0