Omar Bojcic, the best paraathlete from Bosnia and Herzegovina, won 19th place at the World Paraathletic Championship, which was held in mid-July in Paris. Omar clocked 13:07 in the 100-meter sprint. Omar's success is even greater when it is known that he arrived at the world paraathletic show with an injured back leg, which is why he did not train for three full weeks before the competition.
"Running side by side with world and Olympic champions, sharing space and equipment with the 'cream' of world paraathletics is something incredible. The French Paraathletic Federation has an annual budget of approximately 30 million euros. The Americans also invest a lot of funds, even Serbia and Croatia. When you look at their teams with a large number of trainers and guides, psychologists, masseurs, you simply wonder how anyone from Bosnia and Herzegovina came here and is hanging out with these people", says Omar's father Elmedin Bojcic, who is also the president of the Athletics Club for Persons with Disabilities "Novi Grad" and the Paraathletics Club of the Federation of Bosnia and Herzegovina.
At the championship itself in Paris, 170 countries competed. There were 1700 competitors, with more than 3000 participants. Omar was among them thanks to AK AKOSI NG (Novi Grad Sarajevo), the Australian Embassy in Canberra, Visit Sarajevo, and the World Paralympic Federation and the Bosnia and Herzegovina Paralympic Committee, who donated money so that the flag of Bosnia and Herzegovina would be present in Paris.
All Omar's medals
When you live in Bosnia and Herzegovina and play a sport, and that sport is not football, basketball or handball, then the appearance at the world championship can be included in the column "Make believe".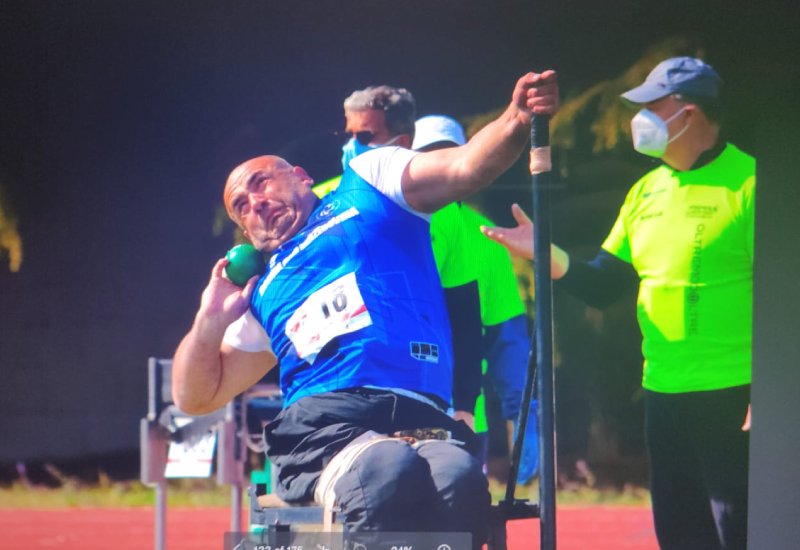 Unless you are Omar Bojicic. This talented and brave guy is no stranger to big competitions. Until now, Omar has performed at the junior European and world championships, and his painstaking and dedicated work made him receive an invitation to perform at the senior championship from the International Paralympic Committee.
Omar is the owner of the national record in the disciplines, 100, 200 and 400 meters.
In this year alone, he broke the national record twice. The current time is 12.77, which he ran on April 23 of this year in Pula. He is currently seventh on the European ranking list of the best paraathletes in the category T 11. He returned from completitions in Marrakesh (Morocco) and Pula held in March and April this year with gold, silver and bronze medals. Omar himself does not know how many medals he has won so far, but if you ask him which one is his favorite, he points out the ones won in Marrakesh.
"Running with sprinters from Africa is a special experience. Their speed and endurance is something the rest of us don't have. To win medals on an impossible terrain in Africa, when we landed from snow to plus 30 was really hard, but also special," explains Omar Bojicic for Local Works.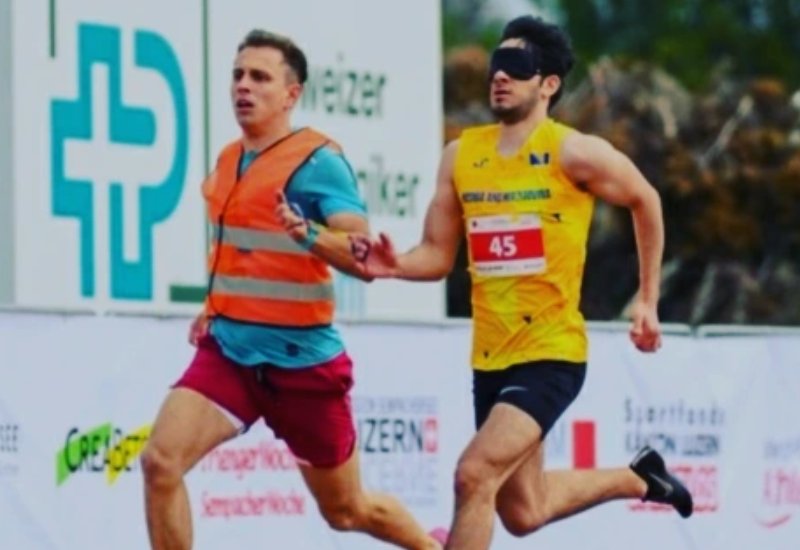 Omar's results are even more valuable when you know the conditions in which he trains. Especially in winter, when the athletics track in Koševo is often covered in snow, and it is colder in the hall in Zetra than outside. If it were not so, the number of medals won would certainly be much higher, because there are no obstacles for Omar.
In addition to being involved in athletics, he is also the only blind athlete in our country who trains jiu-jitsu. He also won numerous medals in this sport, and he also coached golbal – handball for the blind. Omar transferred his love for sports to education. He enrolled in psychology studies so that he could work with athletes as a psychologist. In addition, he speaks three world languages.
Parental love, perseverance and persistence
When Omar lost his sight at the age of twelve, his world seemed dark and uncertain. But his father Elvedin did not allow that darkness to take over Omar's life. Instead, he devoted his life to his son and developing his talent. He became Omar's support and light on his sports journey, the alpha and omega of logistical support. Without his efforts, Omar and his coach Faris Ibrahimpasic would hardly have quality preparations, work, conditions for going to rallies… Nothing is difficult for Elvedin, although trying to prove sports quality to someone in Bosnia and Herzegovina is a battle with windmills.
"The conditions for training are sometimes very bad, we have to "beg" for money to attend competitions. Sometimes we are forced to take out loans. Instead of flying, we often take a bus. While other athletes have space to train for the whole year, we train for two months", Elvedin does not hide his disappointment with the current situation in sports.
Despite this, this devoted father never thought of giving up. And he didn't just support Omar all these years; he went a step further to help others as well. Realizing how important support is for people with disabilities, he founded the Federation of Parathletes of FBiH, which became a member of the Paralympic Committee. This is the only way to at least try to secure systemic financing, which has not been there so far. The next step is to form an alliance at the state level. And that's not all.
Students work with disabled children
"We are currently working on the project "Development of sports for people with disabilities", which is being implemented with the support of the Center Sarajevo Municipality and UNDP. We are trying to bring in new members, competitors who in the coming years will be serious competitors for world competitions. We work with the Center for Blind and Visually Impaired Children, but everyone who has a talent for a sport is welcome," says Elvedin.
Elvedin also launched a project in which he included students from the Sarajevo Faculty of Sports, so that they would spend part of their practice working with disabled people. These are all pioneering steps, but Elvedin believes they will be successful.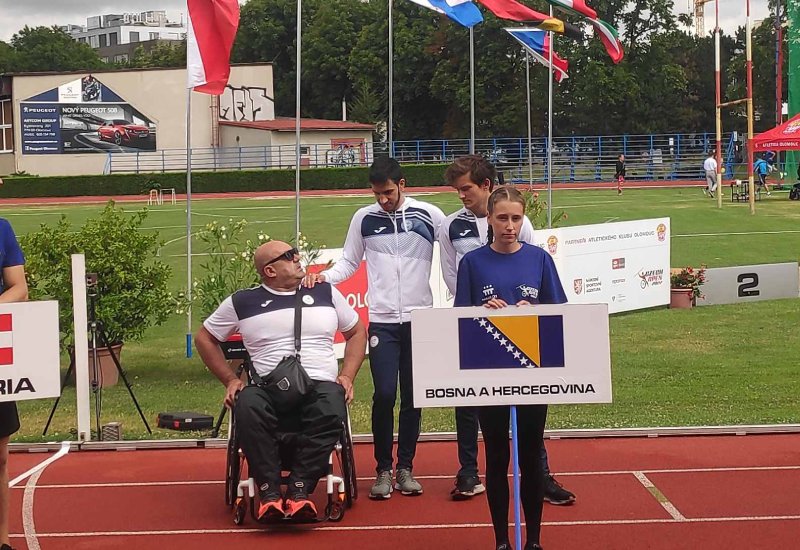 "The Global Blind Club cannot make an international tournament because there are not enough referees. We are now working on training 10 judges, who will go to Slovenia to secure certificates to judge at international competitions. In December, Sarajevo and Bosnia and Herzegovina could host a big para-athletic competition," Elvedin is optimistic.
Elvedin thus became a leader, but also an advocate in the promotion of the rights of people with disabilities and equal opportunities for everyone in sports. His dedication and fighting spirit are not only a support for Omar, but also for all other athletes, paraathletes.
Sport as a way of life
One of those who can always count on Elvedin's support and help is Dzevad Pandzic, shot putter, javelin and discus thrower. Pandzic started playing these sports in 2003. He performed at numerous competitions, rallies, championships, and at the Paralympics in Beijing, Tokyo and Rio de Janeiro. He is the owner of three state records, in shot put with 11.03 m, discus throw with 27.40 m and javelin throw with 22.36 meters.
Due to a shoulder injury, he could not participate in the World Championship in Paris, but he believes that he will represent the colors of our country already next year at the Paralympics.
Although he is not allowed to train at the moment, Dzevad is on the field every day. He comes to the club, drinks coffee and looks at his training chair. He is waiting for the day when he can sit down and start throwing again. He explains his love for sports in the following way:
"It is the will to live, to prove oneself. Sport is a way of life, without sport I could not do it".
Being an athlete in Bosnia and Herzegovina is not easy. Dzevad says that, with all the problems, it used to happen that he was supposed to go to the competition, but he didn't have a shirt with Bosnia and Herzegovina crest. Such things are now handled by Elvedin, although he does not have any compensation or salary.
"I entered this world because of my child and I saw all the problems that athletes face. I said to myself: Either it will be right or it won't at all. I just want them to have what they need and that's my whole role," says Elvedin modestly.
Omar is currently on a well-deserved vacation, as is his father. This is followed by preparations for what will be the pinnacle of Omar's career, the appearance at the 2024 Paralympic Games in Paris. The goal for 2025 is to organize a large international para-athletic competition in Bosnia and Herzegovina. There is no doubt that it will succeed. Because the story of Omar Bojcic and his father Elvedin is a story of love, support, courage, perseverance and great success.
---
This article was written thanks to the generous support of the American people through the "Local Works" program of the United States Agency for International Development in Bosnia and Herzegovina (USAID). The contents of the publication are under the exclusive liability of its author and "Network for Building Peace". The views expressed in this article do not necessarily reflect the views of the USAID or the US Government.