Marking December 3, the International Day of People with Disability, within the EMPOWER project implemented by Caritas Bosnia and Herzegovina, together with its partners, which is funded by the European Union, a National Awareness Campaign titled "Disability does not define me" is being implemented.
The negative attitude of society towards people with disabilities in Bosnia and Herzegovina in most cases is reflected in the emphasis on the inability of people with disabilities, without taking into account their abilities and capabilities. Because of that, people with disabilities face daily situations where they do not have the opportunity to show they want and can do. The campaign "Disability does not define me" wants to show examples of people with disabilities from 7 cities in Bosnia and Herzegovina who have managed to fight for their rights and realize themselves in all life roles. In doing so, we want to encourage other people with disabilities and the organizations that work with them to follow in the footsteps of these positive examples, and encourage the public to support people with disabilities to develop their capacities and realize their potential.
Read their stories: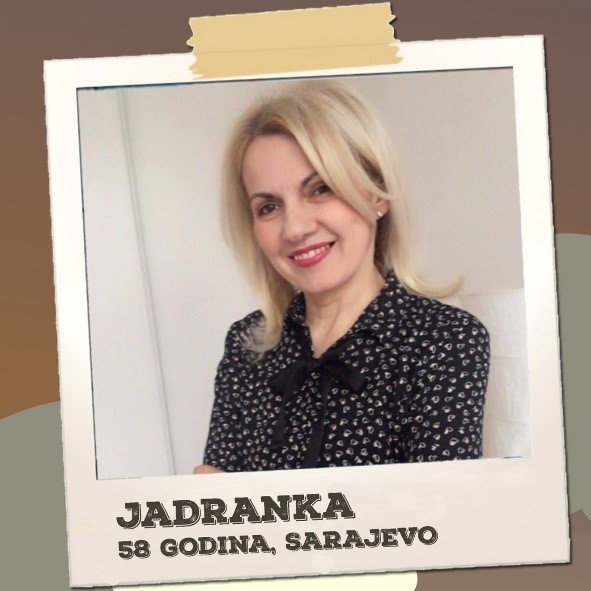 Jadranka, 58, Sarajevo
Jadranka lives and works in Sarajevo as the secretary of the Association of Deaf People of the Sarajevo Canton. She has been a deaf person since she was five and points out that she is one of the few deaf people who has managed to develop the gift of speech.
She grew up in a family full of support with which she learned to fight for herself, not to give up when it is difficult and most importantly, they taught her to accept her disability and live with it believing in herself and her abilities. She was educated at the Institute for Rehabilitation of Hearing and Speech of Children and Youth "Nemanja Vlatković" where she spent a particularly beautiful and successful period. Today, she works in the Association of Deaf People of the Sarajevo Canton, where she communicates daily with members, other institutions, runs a Facebook page and edits the magazine of the Association. She also mentioned the great help of her daughter who is a sign language interpreter and who helps her in situations where the environment is not adapted to deaf people. In addition to the above business and family obligations, she manages to find time for herself and spends her time painting on silk and reading books.
Jadranka's message to the public is that deaf people do not need pity, only patience. People with other disabilities need to be persistent and believe in themselves. After realizing the meaning of her life, she managed to overcome life's obstacles and not wait helplessly for everything to come to its place.
"What matters deafness of the ear, when the mind hears? The one, true deafness, the incurable deafness, is that of the mind." Victor Hugo
…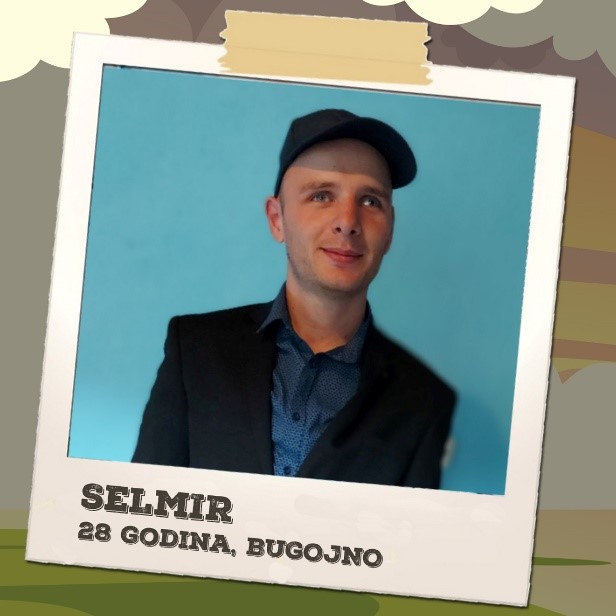 Selmir, 28, Bugojno
Selmir comes from Bugojno. He has been a blind person since he was ten. With the support of primary school teachers and the Center for Social Work, Bugojno, Selmir enrolled in the Center for Blind and Visually Impaired Children in Sarajevo and acquired the title of physiotherapist. After high school, he got an opportunity to do an internship at the Bugojno Health Center, where he gained a year of work experience, which, he said, prepared him for future business ventures and encouraged him to start working as a physiotherapist in private engagement. When we asked him to tell us something more about his job, he was happy to share with us how he really enjoys everyday with clients with whom he has only positive experiences, regardless of his disability. Every day spent at work is an opportunity for socializing, but more importantly, an opportunity to help people who need help. That makes his journey special.
He believes that he is successful, because he was engaged himself in job search and his own training, and he did not let the circumstances discourage him. Selmir tells us that nothing will just be offered to us, we need to fight, learn and we will surely find what we want!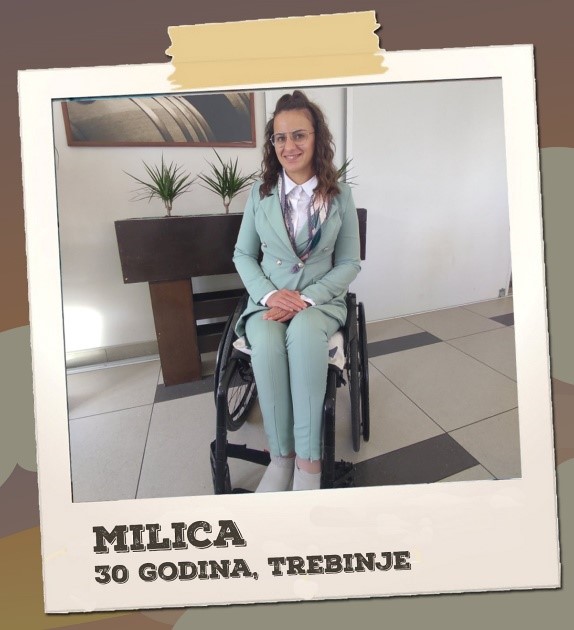 Milica, 30, Trebinje
Milica was born in Čapljina and lives in Trebinje. After finishing high school, after an accidental fall, she became a paraplegic. Not burdened with the thought of why this had happened to her, she decided to take life into her own hands and slowly build her own path. As she says, her everyday life was like a game of chess – she drew moves with the figures she had. She emphasizes the significant support of the Association of Amputaries of Trebinje who hired her, and Milica begins her journey to fight for the rights of persons with disabilities. She struggles with the daily prejudices of the public with her appearance and the smile on her face that she could only put on when she accepted herself and struggled with her inner voices, highlighting her successes and not giving others a chance to feel sorry for her. Her message to the public and other people with disabilities is to focus on opportunities, whatever they may be, and not on shortcomings, and build the future on that.
Today, Milica is a very successful young woman. She is an active member of the Association of Amputaries Trebinje and the Association of Paraplegics Trebinje and an active advocate for the rights of persons with disabilities. She is a member of the City Assembly of Trebinje, as a representative of persons with disabilities, a student at the Faculty of Production and Management, and works in the Electric Power Industry of the Republika Srpska. In her free time, she is engaged in photography, painting, sewing and kayaking, in which she is a member of the national team of Bosnia and Herzegovina and the only girl with disabilities in the Balkans who is engaged in kayaking!
We can build windmills in front of the wind and we can also build walls. Let us not be the ones who build the walls and hide behind them! – Milica told us.
…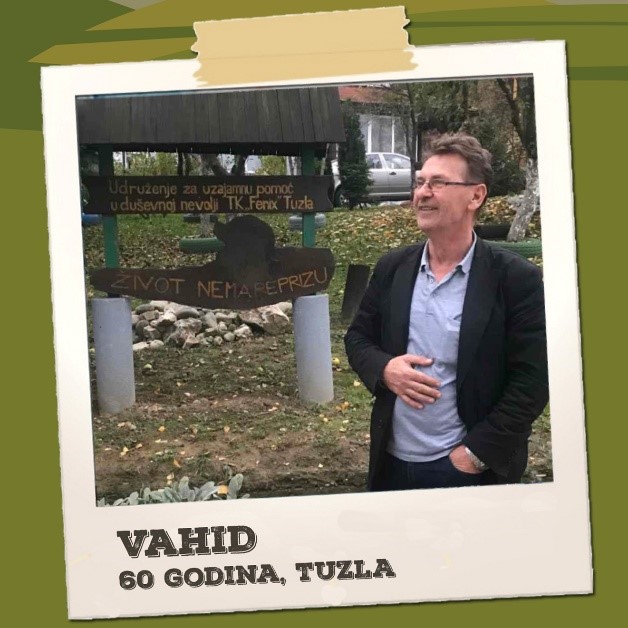 Vahid, 60, Tuzla
Vahid lives and works in Tuzla. At the beginning of our conversation, he proudly points out that he is a husband, father and grandfather. In addition to these important roles, Vahid points out another one – he is the president of the Association for Mutual Assistance in Mental Distress "Fenix".
He has been diagnosed with post-traumatic stress disorder since 1996. A great role in adapting to the diagnosis was played by founding TK Fenix, where with his life story he found a place among the world's most prestigious publishers and had a significant impact on the protection of the rights of people with mental disabilities in the country and Southeast Europe. Then he began to look at his diagnosis in a different way and slowly returned to the currents of everyday life. From his experience, he points out that the support of people with disabilities is very important, and he is very happy that in addition to the support of TK Fenix, he ​​has great support from his family, which he says is crucial for all people with psychosocial disabilities.
In the end, he told us that: work is the best solution. He emphasizes that providing opportunities for people with disabilities gives opportunities to put their diverse potentials in use, but also to further improve their abilities. People with disabilities can greatly contribute to the community if we provide them the opportunity!
…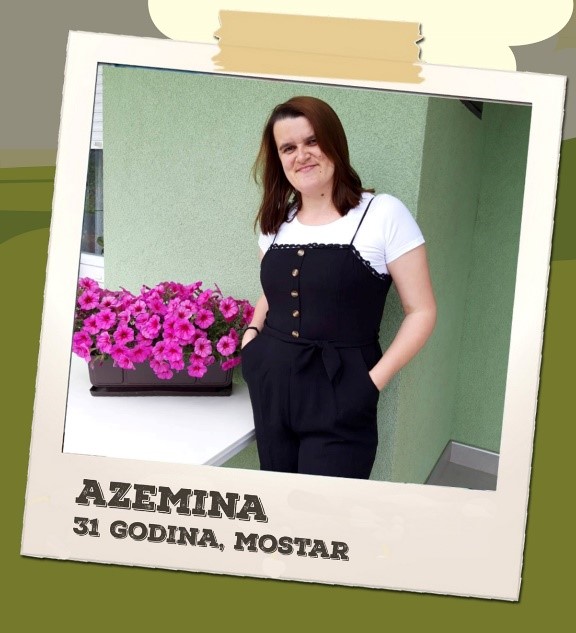 Azemina, 31, Mostar
Azemina has been living and working in Mostar, in the restaurant "Lonato" as a waitress, for 4 years. Azemina is a woman with intellectual disabilities and is an active member of the workshop "Maslačak", Center for Children and Youth with Special Needs "Los Rosales".
In her free time, Azemina writes songs and paintings, and from an early age she wanted to publish her own book. She saw the ideal opportunity to fulfill her wish right now, when we spend more and more time in front of the screen, forgetting the treasures that books hide. In her first book, the song itself did illustrations in a way to attract both the youngest and oldest audiences. Through each song and image, she told the story of her life. With the support of the Center "Los Rosales", she realized her dream but also continued to dream, so after the successful first book she published the second one, which she was even more successful.
With her poetry, her message to the public is to accept themselves as they are and to be aware of their value, not to rise to heights, but also not to allow others to put them down.
…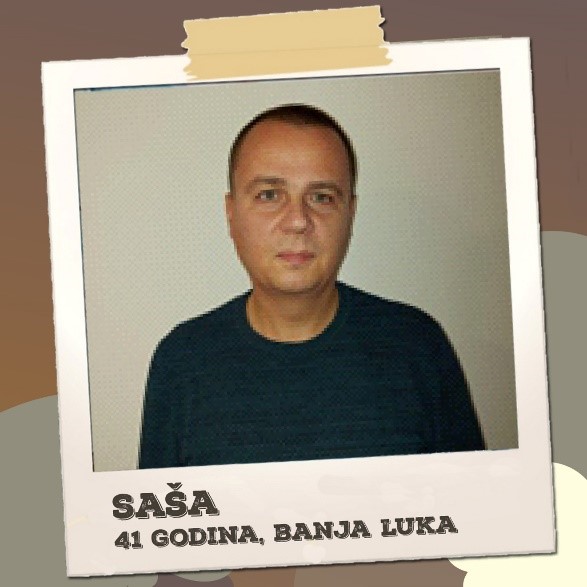 Saša, 41 year, Banja Luka
Saša lives and works in Banja Luka at the University Center for Support of Students with Disabilities and has been blind since birth.
He was educated in Derventa, Belgrade and at the Faculty of Philosophy in Banja Luka at the Department of Serbian Language and Literature. He proudly points out that he was the first person with a disability to enroll at the Faculty in Banja Luka in 1998. In addition to his studies, which he was very interested in, he shared with us that he discovered his love for computers and thanks to his knowledge, after graduation he worked on a website, and since 2011 he has been employed by the Student Support Center.
Saša struggles with everyday prejudices by teaching others about his disability because he believes that ignorance is what contributes most to public prejudice. He also tells other people with disabilities to go public, not to shut themselves in, no matter how difficult it may be in the environment in which they are, because they are the only ones who can fight for themselves and find their place in society.
…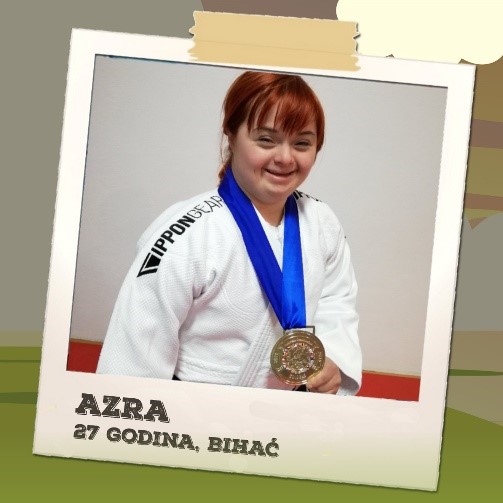 Azra, 27, Bihać
Azra was born in Bihać, where she finished primary and secondary art school, and has been involved in sports since she was 13 years old. Today, Azra is a woman who successfully balances her career, sports, love of painting and her large family. She points out that she has two families: her primary family, but also a family in a judo club. According to her, the support she receives from them and her friends means everything.
The public knows Azra as the first person with Down syndrome to get a job in Bosnia and Herzegovina, about five years ago, in a cosmetics store in Bihać. In addition to being fulfilled in a professional life, she also has lower successes in her free time. Bosnia and Herzegovina is proud of her successes in judo: she won third place at the World Championship and first place at the European Championship! In addition to her love of sports, she also enjoys painting. She likes to paint still life the most, and she even had a solo art exhibition.
Azra tells us that no matter what difficulties and obstacles we face, we have to be brave, persistent and always believe that we can achieve everything we want!