Miroslav Subašić is an altruist from Banja Luka who helps people in need through the Mozaik prijateljstva (Mosaic of Friendship) projects. According to his opinion, it is all related to his and the lives of the people he works with.
The Mosaic of Friendship through the "Meal of love" provides food for between 500 and 1,000 people a day and helps children in schools. Additionally, through this project, they recently opened a public bathroom which is always open.
He spent his childhood in poverty and his adolescent days on the street as an alcoholic. During that time, he dreamed of a place where people could come to rest, bathe, eat something, without anyone judging him for it. He has been putting into practice what he once dreamed of since 2004.
Tell us what a "Meal of love" is?
A "Meal of love" is not just a meal, as many people think, but it is a meal given with much, much love. All those people who give it, together with me, give it from the heart, because each of us has a story that we can relate to this situation in which people are today.
Please tell us more about your story
When I grew up, I was very poor. Mom had five of us, we didn't have fathers because they didn't accept us, so I know very well the condition of the people around me, and especially the children. As a child, I went through something like that and everything Mosaic does today was part of my childhood. In the past, people used to collect help for me in schools, to have a muffin to eat, to have something to wear, to have books. Today Mosaic of Friendship does all of that for children. All schools in the territory of Banja Luka and other cities work with us to help the users of the soup kitchen, and we cooperate with many teachers and professors and look for ways to help their children.
What does the "Mosaic of Friendship" mean to you?
Being in the Mosaic of Friendship is an honor. Mosaic of Friendship is an association that has been helping people since 2004. I founded it together with my colleagues, most of whom are now living around the world. It is not easy to stay in all this. The primary task of Mosaic is to feed people.
How many meals do you provide per day?
About 500 on weekdays, and over a thousand on weekends. We also do delivery. But it's not just food aid. We know these people well, many have no one to talk to and no money to pay for utilities or heating and medicine. We are here to help and that is why it is called the "Meal of love".
Who are the beneficiaries and how do people reach you?
I always say that the beneficiaries are our grandmothers, grandfathers, the people around us, the people living near and far from us, people who built our country, people who get small pensions every month. When Mosaic was created, we made food at home and looked for people who need it. Today, either someone comes to help someone, or people come to ask for help for themselves.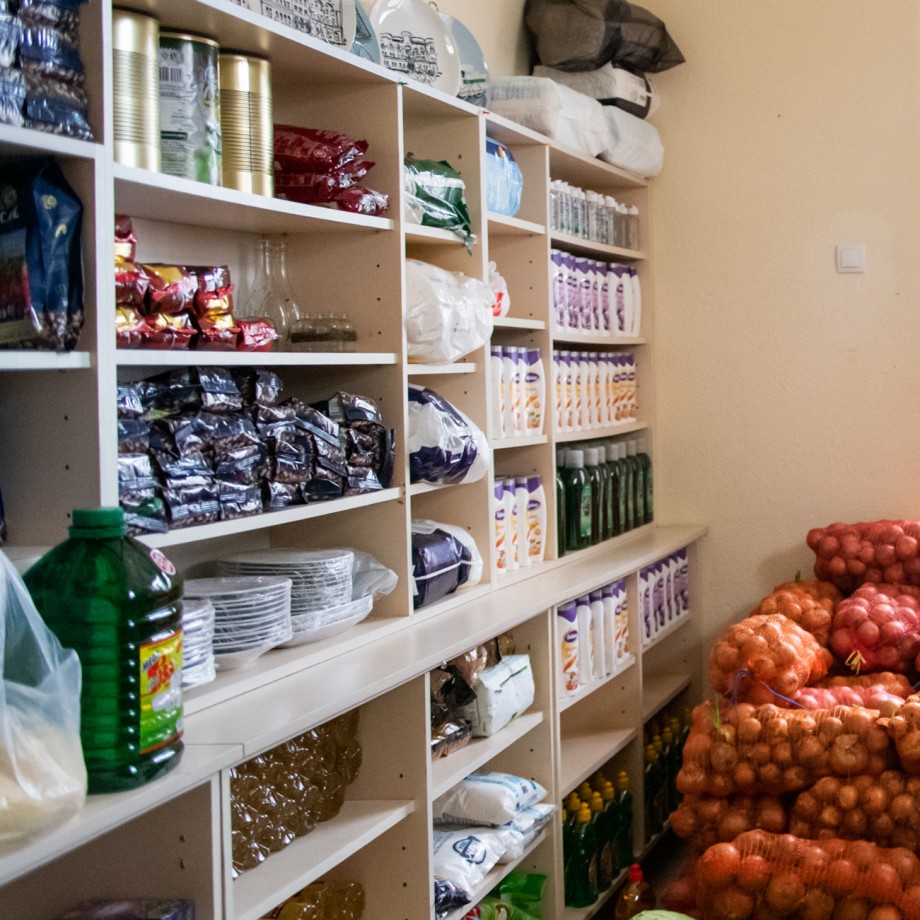 You also opened a public bathroom and I noticed that the door to that space was unlocked. Is this a new part of the project?
The opening of the public bathroom is also related to my life. Since I used to be an alcoholic on the street and, even if you are a good man, you cannot show it, you have to survive. But like any other person, I wanted to belong somewhere. And I thought about it, I wish there was one place where people could come and rest without anyone "judging" them. That there is a place where I can take a bath, without anyone "judging" me, because I am who I am. So, everything that Mosaic has today, it is all related to our lives.
The "Meal of love" is a story that was created as part of the project "Stories of good deeds" and the realization was supported by IMEP.
Author: Imrana Kapetanović