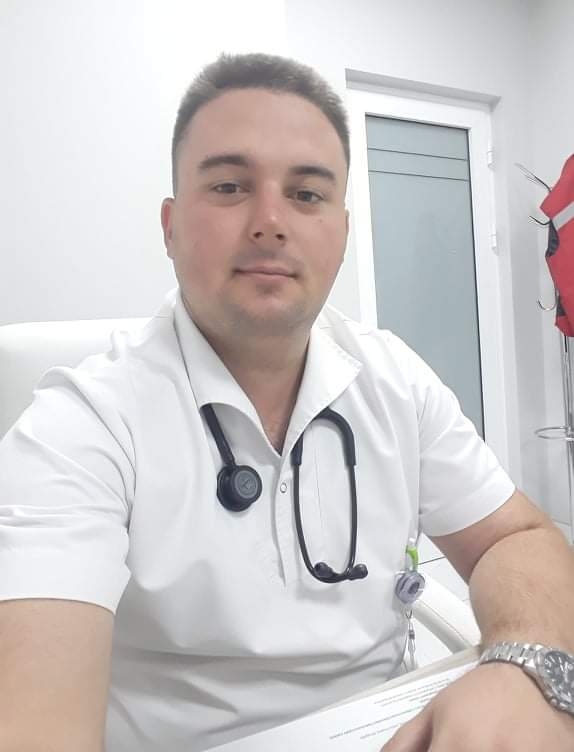 At the time of the coronavirus pandemic, there were many heroes with visible but also less visible capes. Among them, of course, the most visible and one could say the biggest, are healthcare workers who have been fighting the virus for a year now, which is changing the forms and ways of fighting. However, when you choose the fight yourself, your courage deserves greater visibility and reward. That is why we bring you the story of Slobodan Marković, a doctor of medicine, who voluntarily decided to work in the COVID department at the Public Health Institution "Sveti vračevi" in Bijeljina.
It is a hospital, which is a regional center in terms of secondary health care for the city of Bijeljina, the municipality of Lopare, Ugljevik, Donji Žabar and Pelagićevo.
"I was admitted at the surgical department. At that time, the third COVID hospital within this institution had already been opened. With the mentorship of Dr. Željko Pejović, I volunteered and with him I gained my first working experience in the hospital within the COVID department," said Marković.
He adds that as a young doctor he really wanted to work and prove himself, and he found the greatest motivation in the positive reaction from his patients.
"When I decided to be a doctor, of course I accepted that I would help people according to my knowledge and needs that there are various diseases. We cannot choose which disease we want to treat. Wherever you work, you don't know what will happen to you. We are in a pandemic now. We have no right to choose. It is our responsibility to help people get better. I've never been scared because I follow all epidemiological measures. Of course, there is a fear when you come home not to pass the virus to your family members and friends. But there is not much thinking, the virus is there and people need to be treated."
He talks about working in the COVID department as a regular and starts with a morning visit in the morning, and lasts throughout the shift. It also happens that at the moment when they finish with the last patient, they already have a new one, who needs medical help at that moment.
"I can say that we are continuously working. There are rare times when we can rest. We work in protective equipment, patients can only see our eyes and there is a big difference in communication than in situations without protective equipment", Marković points out.
According to him, the epidemiological situation in Bijeljina and the region that gravitates towards this hospital, has been deteriorating in the last two weeks. Still, Marković encourages that there is no room for panic, because there is enough medical and hospital capacity.
"We are always one step ahead of the COVID and we always have 50, 60 free/extra beds in the hospital. That is the continuity we have had since August last year. At the same time, we are constantly working on receiving and having new staff. Trainings are in progress and doctors are constantly undergoing training in Banja Luka or Belgrade. We follow the guidelines of the profession. What we noticed in this so-called third wave is that the clinical states are much more difficult and that patients stay longer in hospital," says Marković.
He concludes that they work with full force and do not worry about free time, because in this situation the most important thing is that doctors do their job.
Author: Sara Velaga