When was the last time you witnessed a story of perseverance, courage, a story after which you realized that there are no obstacles in life if you really want something? This is exactly the life story of Mustafa Mehić Mujče, a 24-year-old blind young man from Gračanica, recent law graduate.
That is not the only thing that this inspiring young man, who is a role model for many, has achieved. He is also the first blind person to run a half marathon in Sarajevo. There are many things because of which this young man should be and is a role model for all of us.
Graduating university is not easy, Mehić told us at the beginning of the interview, remembering his beginnings in Sarajevo.
"It was not easy to get a degree at the Faculty of Law in Sarajevo, but I am extremely happy and proud. Especially in my case, with a speech curriculum, taking into account the fact that I am blind. I have lived in the Sarajevo neighborhood Nedžarići for a long time. I went to university every day. Everything was harder for me in the beginning than for the others, but that is normal considering my disability. Although it was/is harder, it is not impossible ", says Mehić.
There were situations which were very difficult for him, but he never thought about giving up on his goal.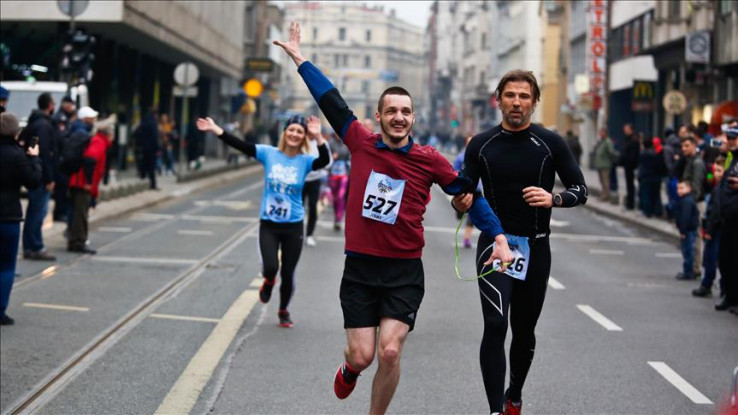 "Now I can do everything, because I am used to learning and I did everything by myself, but maybe a little differently compared to other people. In some situations, it was harder for me to study than for others, but that would be the case even without my disability," says Mehić.
By the age of 16, Mustafa was visually impaired, only to wake up completely blind one morning. The loss of his sight represented not only a loss of will for further education, but also loss of will to live. However, perseverance, love and support of his family motivated him to continue his education.
Now he has only one goal, and that is to take a break from everything and dedicate his time to family and friends.
"Now my goal is to rest first, at least for a month or two, without any obligations. I will see what happens next, I plan to write a book about myself, to describe what I went through. I do not have any special wishes. I am satisfied with everything I have at the moment and I will let everything go its course", says Mehić.
His dream is to work in a legal department in the future after finishing his internship.
"I like international law, it's interesting. I like other branches of law too. I think I chose the best job in the world. Tomislav Cvitanušić, Senad Pećanin, who is my best friend, Anesa Agović supported me through the whole process of my education. I am the happiest in Sarajevo, my friends are there ", said Mehić.
He remembers the moment when he started attending the Faculty of Law as the only blind student.
"I didn't know anyone, it's not a start from scratch, but below that. Of course, that inspired me even more when I graduated, because I showed everyone, including myself, that it was not impossible. There's nothing I can't do now and I feel very good about it. Now I can freely say that I overcame my disability and that it became completely irrelevant to me. I don't pay attention to that anymore, nor do my friends, because I am happy and proud of myself for everything I have achieved ", said Mehić.
Source: www.klix.ba