Do you have a business idea for elderly care service or product and are you looking for a partner? This opportunity is intended for young people aged 18 to 35.
Stages of development
This opportunity is available to those who are in one of the following stages of development.
Elaboration of Ideas
In the process of establishment
Established business
Industry/Area
This opportunity is available for the following areas: Mental Health Care, Computer Software, Individual and Family Services, Information Technology and Services
ACCEPTED AGE OF THE COMPANY 0 – 5 YEARS
SHARE 1 – 49%
Location
BOSNIA AND HERZEGOVINA, All cities
Additional note
* These are just a few industries and areas where we are looking for business ideas.
Opportunity description
More information: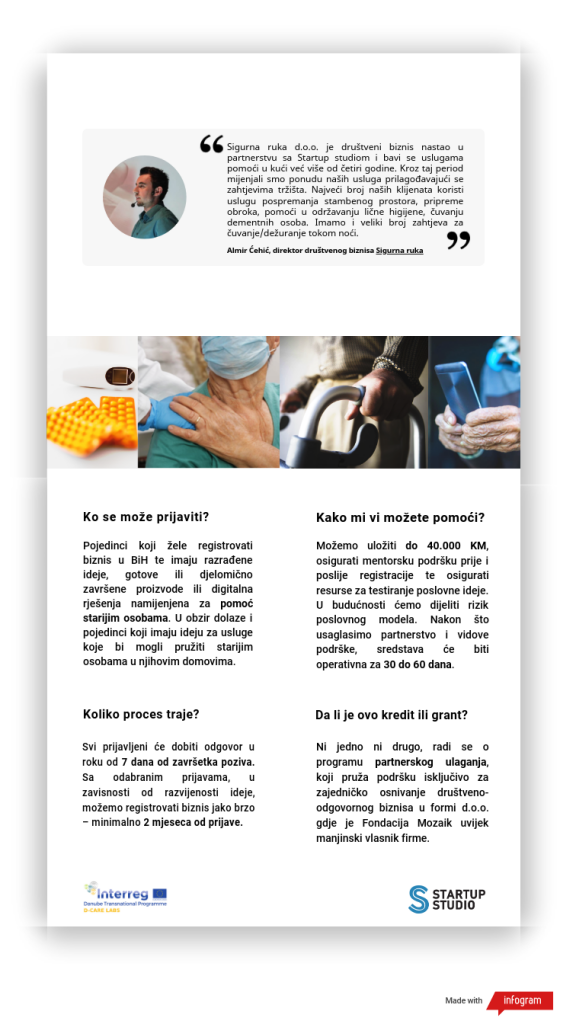 You can get more information about the call by registering in lonac and clicking on SIGN UP/PRIJAVI SE.
————
Note: The call is realized within the Interreg Transnational Danube Program (D-CareLabs). The general goal of the Program is to promote economic, social and territorial cohesion in the Danube region. In order to achieve a higher degree of territorial integration of a very heterogeneous area of ​​the Danube region, the Program acts as a policy driver to address common challenges and needs in specific areas where transnational cooperation is expected to achieve concrete results. The Danube Transnational Program focuses on four thematic priorities. One of the priorities is social innovation, which includes: encouraging eco-innovation, knowledge transfer, social innovation and entrepreneurship.